The system is processing. Please wait a moment!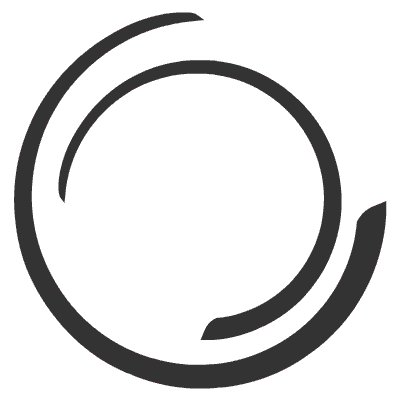 x
QUICK CONSULATION
Hoang Sa Viet will call you directly to advise you when leaving information
THE HALL LED DISPLAY SCREEN
P2.0 Indoor Meeting Room LED Screen
Code: P2-Indoor
Status: Stocking
Origin: China -Taiwain
Brand: Shenzhen Brighter
Type: P2.0 . Meeting Room LED Display
Physical distance of two pixels (Pitch): 2.0 mm
Pixel build: 1R1G1B (SMD1515)
Maximum luminous intensity: 1000 cd/m2
LED lamp life: 100,000 hours
1 year warranty
P2 Meeting Room LED screen is a popular indoor product line and is preferred by many business companies to install in meeting rooms, conference centers and seminars today. And it is especially suitable for small and medium-sized rooms. To understand more details about P2 LED screen, please refer to the article below!
Because the LED module P2 product line has the largest resolution available today, For a quality meeting, a minimum resolution of Full HD is required while the size of the meeting room cannot be too large. The meeting room P2 LED screen is a screen composed of many P2 LED Modules put together, using SMD 1515 LEDs (Smallest SMD LED bulbs today), the distance between pixels is 2mm. Extremely large pixel density up to 270,421 points/m2. With those outstanding features, just a screen size (2m wide x 1.5m high) can also produce HD resolution. Therefore, the use of P2 LED screens to replace LCD TVs or video walls in meeting rooms is a new development trend.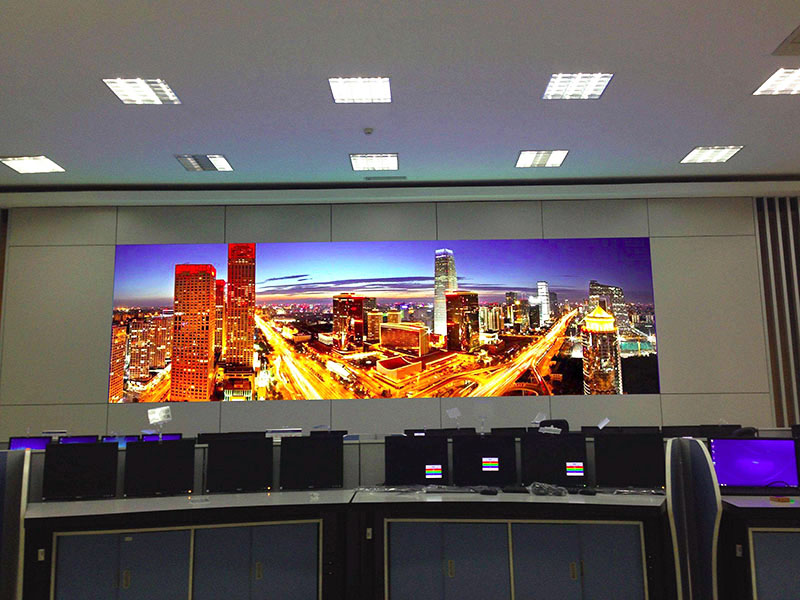 For the P2 LED screen used in the meeting room, the minimum viewing distance is 2m (The distance from the viewer's eyes to the screen), which will give the most perfect picture/video quality.
✔ P2 LED screen installed in meeting rooms for extremely sharp images
P2 Indoor LED display has a distance between the pixel centers of 2mm, the total number of LEDs is 750,000 balls/m2, the pixel density is 270,721 points/m2. Because the number of pixels is very thick, the shadows are also close together, so the displayed image will be super sharp, smooth and realistic. In addition, the P2 Indoor LED display uses the latest technology SMD 1515 Led, creating extremely high stability with fewer dead spots than other types of LED screens during operation.
✔ Highly durable P2 Indoor meeting room LED screen
P2 Indoor LED Display integrates many of today's most advanced technologies, so it is extremely durable. Product life can be up to 100,000 hours.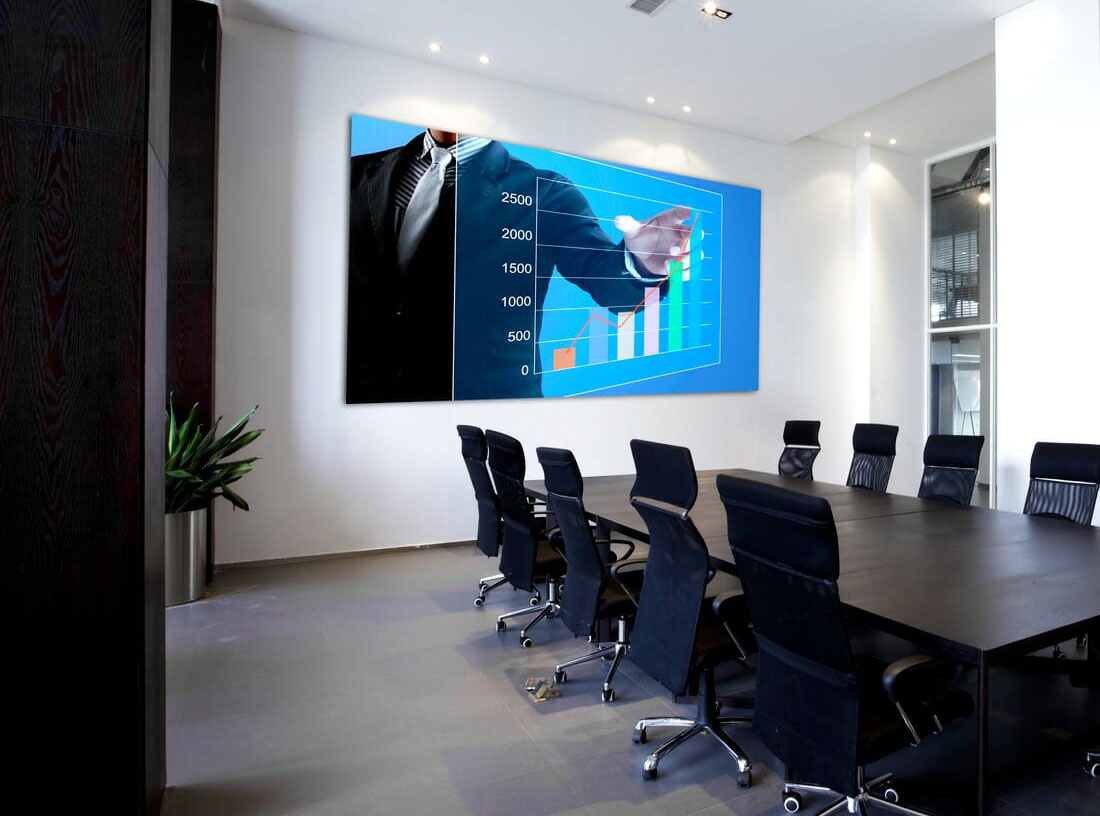 ✔ P2 Indoor LED screen can zoom the projected image at will
P2 type of LED screen can be installed in different sizes according to different wishes and needs. Moreover, it can also adjust the size of the image displayed on the screen without fear of poor image quality.
✔ P2 Indoor LED screen has the ability to present online and offline
P2 LED screen has the ability to display offline by connecting to a variety of devices such as: Laptop, mobile phone, camera, USB,... as long as there are pictures, slides, and videos in it. . And of course, users can also manage and adjust online through the software without being limited by space and time.
✔ P2 LED screen for meeting room can be customized with brightness
Light from technology devices can lead to eye damage, but with the P2 Indoor LED display product line, users can adjust the screen's brightness to suit their eyes.
Normally, the meeting room has a small and medium area, the distance from the sitting position to the LED screen is quite close, so the full-color P2 Indoor LED screen is a great choice. However, we should only install P2 LED screens for meeting rooms with an area of ​​80m2 - 200m2. If the area is >200m2, we should refer to the LED screen lines P2.5, P3, P4, P5 to ensure the best image/video display quality.
The meeting room LED screen is mainly fixed, rarely changes position. Therefore, the option of installing a fixed P2 LED screen will help customers save a part of the cost compared to installing a mobile LED screen.
P2 Indoor LED display is not equipped with waterproof technology. Therefore, when using, we need to limit the screen to contact with water or places with high humidity.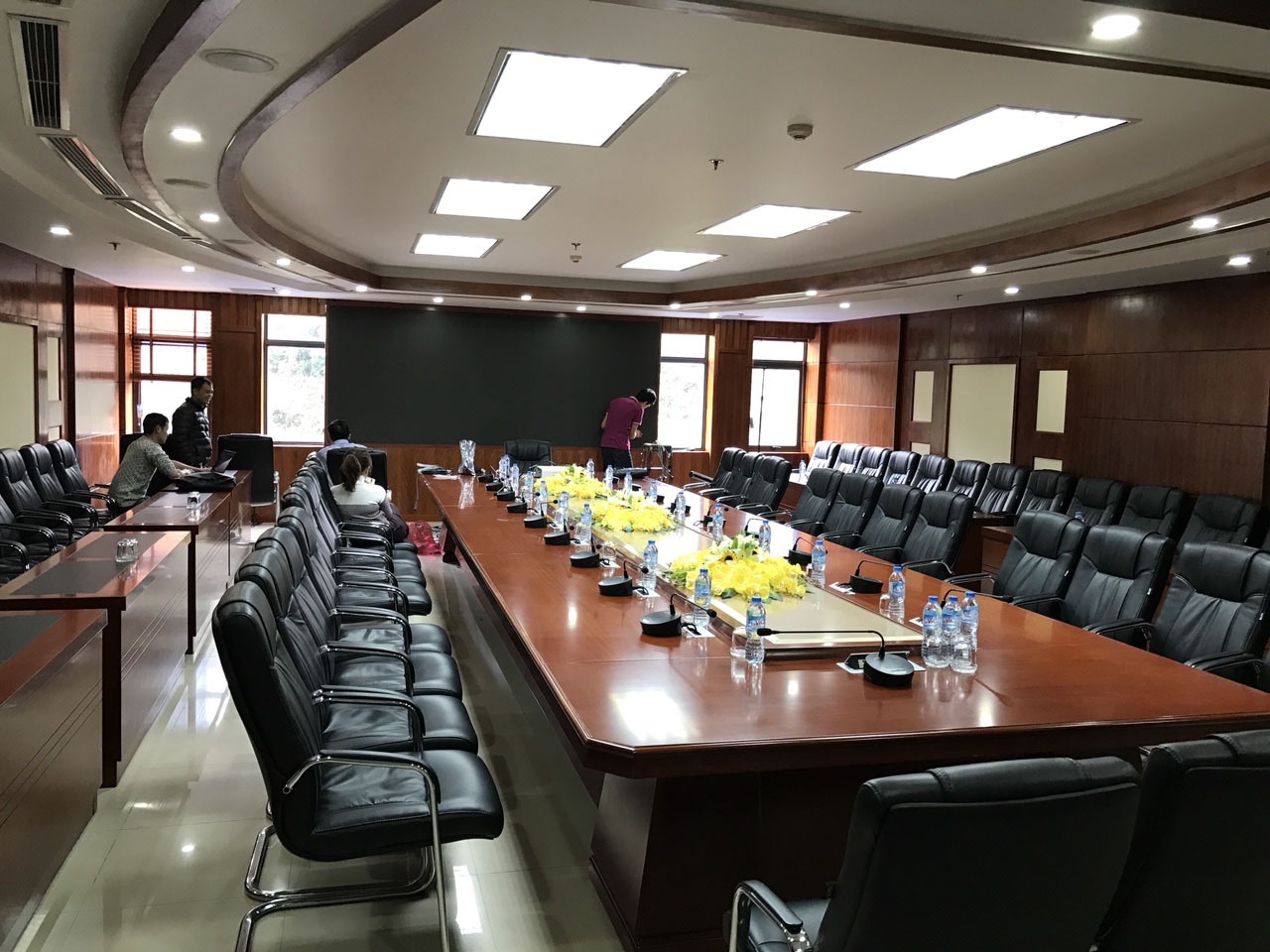 With the increasing demand for P2 Indoor LED displays for meeting room applications, the price has decreased significantly compared to the previous period. With a price of about 30 million VND/m2, you already have an extremely professional LED screen for business, meetings, seminars,... If you have any questions, If you have any questions, please contact Hoang Sa Viet via hotline 0985 999 345. Thank you!
Gửi đánh giá của bạn cho sản phẩm này!
Hiện chưa có đánh giá nào về sản phẩm này!
0985.999.345