The system is processing. Please wait a moment!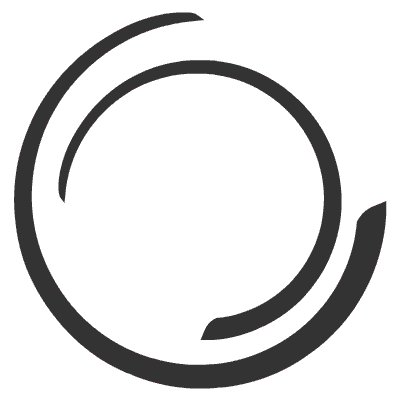 x
QUICK CONSULATION
Hoang Sa Viet will call you directly to advise you when leaving information
Welcome to Hoang Sa Viet event company . You are wishing to learn about event organization services. But when I researched, I found that the event industry is a specific service industry, there is a lot of information about the event industry and the process to organize a standard event. Therefore, you cannot avoid worries. Accordingly, Hoang Sa Viet Event Company will work with you to find out the necessary information to choose the most suitable, cheap and economical process.
✔ The benefits of organizing a standard event.
Standard and methodical event organization services will bring many important values ​​to individuals, businesses and the community. Therefore, the event organization needs to be prepared very carefully and meticulously to achieve the following benefits:
Organize events to help network and connect: Events provide an opportunity to meet, socialize and connect with people with similar interests, industries or goals. This is an opportunity to expand personal networks and build strong bonds between individuals or organizations.
Organize events to share information: Seminars, conferences, or new product launches help spread the word, provide the latest information, and foster learning.
Organize events to build brands: By creating exceptional experiences, events can evoke positive emotions and engage customers with the brand. This can lead to increased sales and increased customer loyalty.
Organize events to promote products and services: Events are a great opportunity to promote products and services. By showcasing, showcasing, and allowing customers to experience it first-hand, events can create a spillover effect and draw attention to a new product or service.
Organize events to create community and interaction: Events can create a community and interactive environment between participants. Group activities, team building games, or other bonding activities can create a sense of friendliness, cohesion, and a boost of cooperation.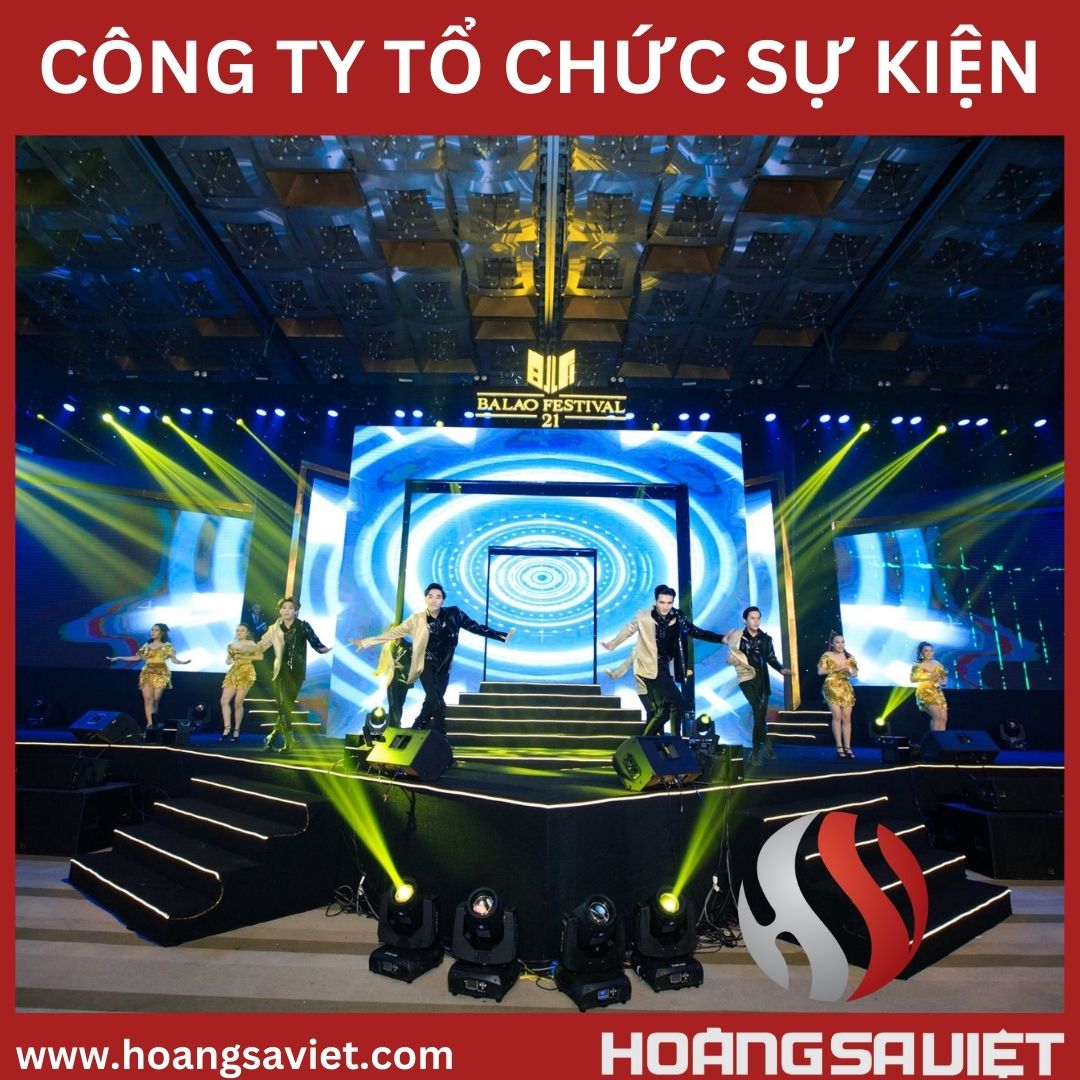 ✔ General event management and organization process
The event management and organization process is set out according to each type of event. Each event will have its own organizational process to achieve the highest efficiency. However, below is the general, short, easy to remember process to organize and manage events so that students of event organization, interns and businesses can refer to it. direction for your event.
Define the goal: First, define the goal of the event. This includes specifying the purpose and expected outcome from the event. The goal of the event is the most important. See more in the next section...
Planning: Planning an event, including choosing a venue, date and time, program, budget, and other essentials. At this step you should learn how to plan for each specific type of event. They are different, flexible and relevant.
Define your guest audience: Define your guest audience and create an invite list, including key and target guests.
Promotion and marketing: Promotion and marketing can take place before or during the event. Event marketing and promotion activities to attract interest and participation from guests. To promote the event before it happens, use social media, social media, email marketing, and other marketing channels. To promote products in the event, it is necessary to focus on creative ideas, unique scripts...
Item preparation: Prepare the necessary elements for the event such as projection, sound equipment, lighting, decoration, and other related services. Make sure all the essentials for the event are in place. The categories for each type of professional event are different. You should refer to this step in the equipment and personnel section below.
Event execution: Run and manage the event during the course of the event. Ensure all activities go according to plan and meet the needs of guests.
Evaluate results and learn from experience: After the event, conduct evaluation and analysis of the results, consider the strengths and weaknesses of the event to draw lessons and improve for the next events. according to.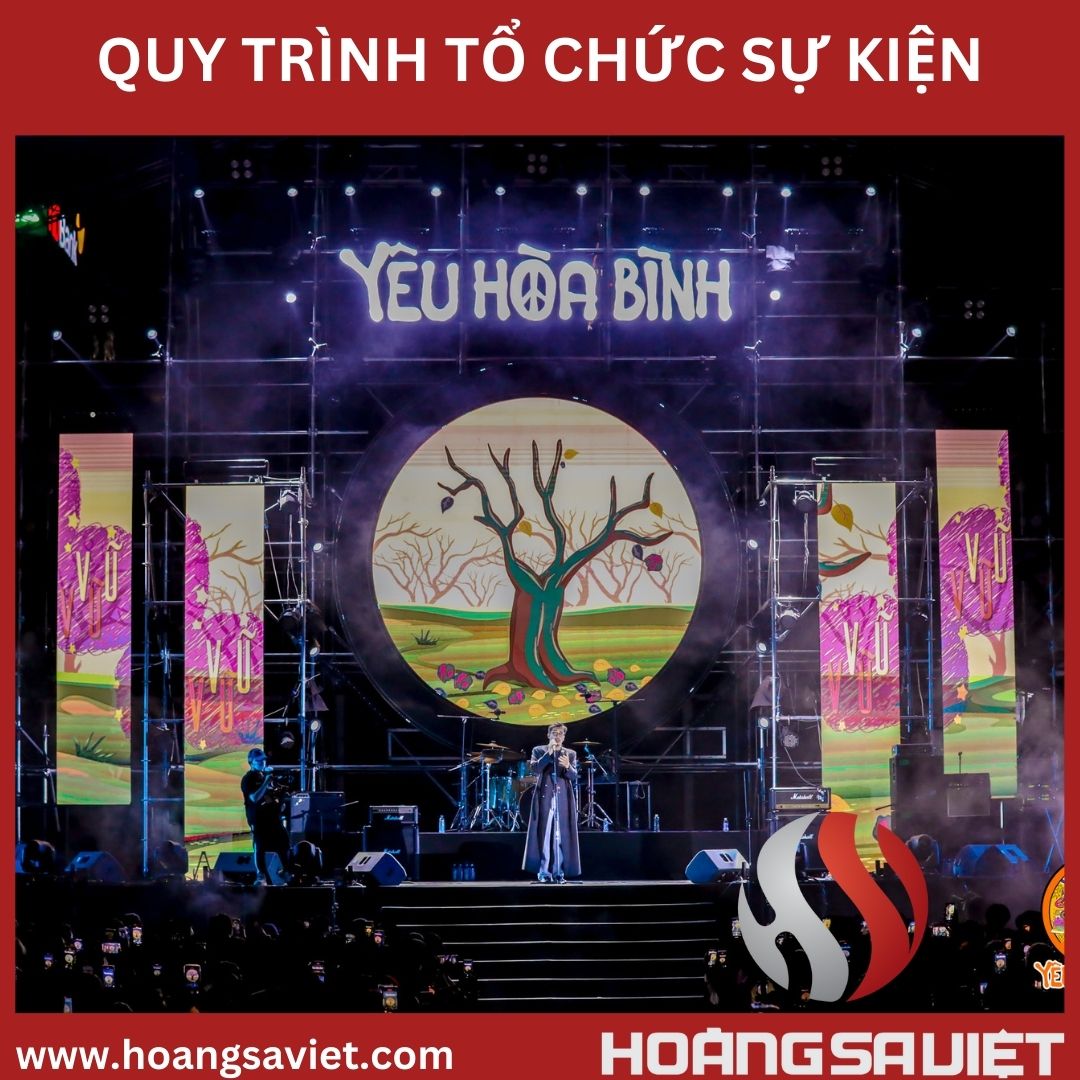 ✔ The importance of defining the goal of the Event
For those of you who work as event organizersDetermining the standard goal, avoiding misdirection will bring results to customers. Goals are what customers and businesses most want to achieve. If you are an employee in charge of managing and organizing events for the company. Be careful when setting goals! Listen to the wishes of management to develop a program to satisfy that desire. There are many events that take place in a grand manner, but in fact do not achieve the goal. That would probably be a waste and only the top leaders would understand. That's why to explain why, some event organizers set up a very large-scale plan, which looks like a table on the surface but is not chosen by the customer. In fact, it has not been in focus and the needs of the customer or the cost is too high to achieve the goal is also an obstacle. Final,
Invite the right audience: The goal of the event depends on the audience you want to reach. Your guest audience can be existing customers, potential customers, business partners, investors, the local community, or any other group you want to interact with and build relationships with.
Make a list of business goals: The objective of the event should also be related to the business goals of the organization. This could include increasing sales, building a brand, strengthening customer relationships, finding new partners, enhancing work performance, or contributing to the organization's financial goals.
Plan on budget: The objective of the event needs to fit within the defined budget. Budget will affect the size, scope and nature of the event. Therefore, goals need to be set realistically and achievable based on available financial resources.
Choose the right equipment and personnel: Equipment and personnel will also determine the achievement of the goal. Using the right tools and equipment and choosing the right event staff is the key to achieving the goal.
Choosing an event organization service provider: Choosing a professional event organization service provider is the last step to consider. If you're organizing your own event for your business, skip this step. However, in order for an event to go smoothly and methodically, you should hire a unit that will help you make the event a success and the goals are more specific thanks to their experience and knowledge.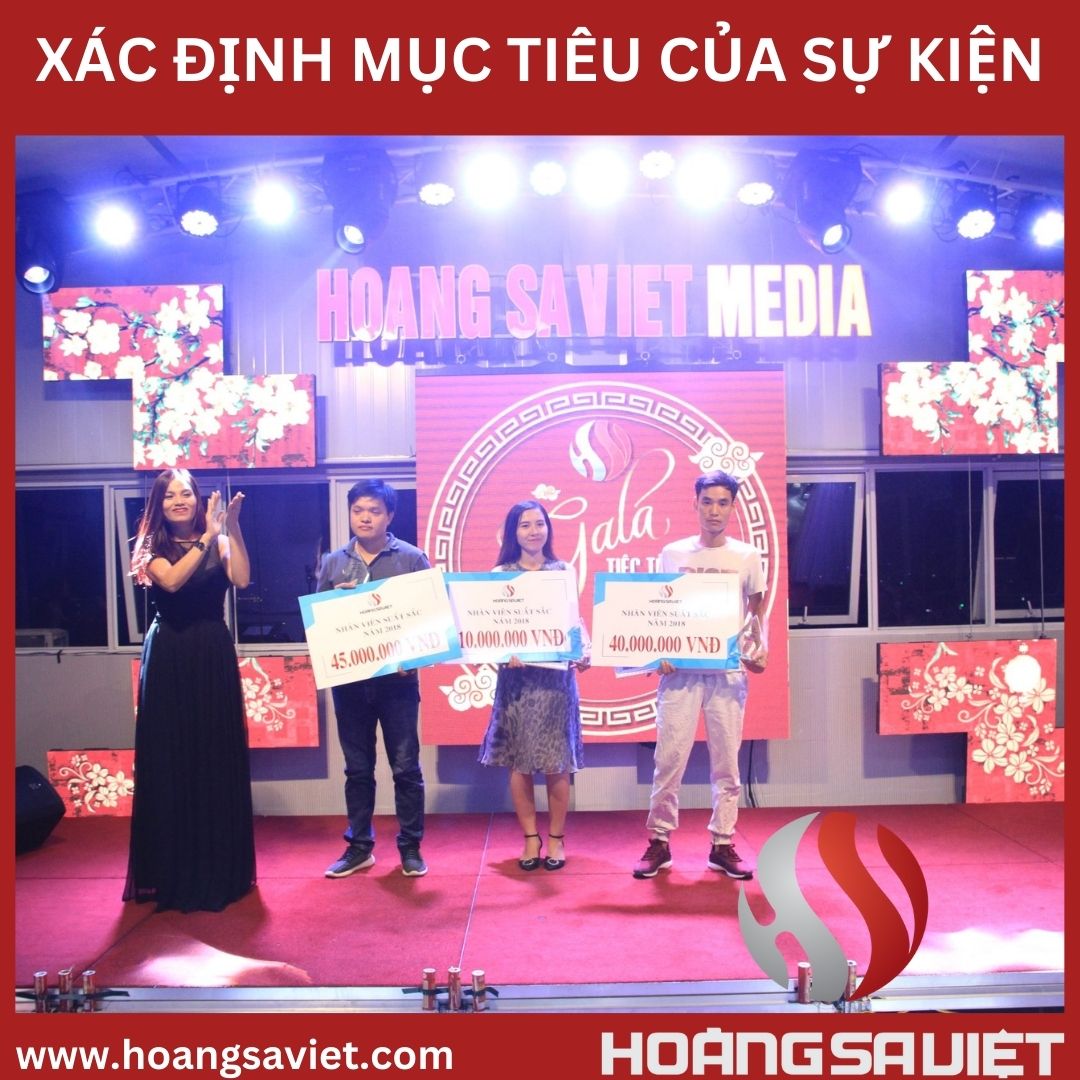 ✔ Categorize event services
There are many different types of event services available, and the exact number cannot be counted. Over time, event types change. Therefore, service providers will also change to meet the needs of customers. These types of events will often stem from the needs of the marketing and advertising industry. The event is to serve PR, advertising and MKT work for businesses. Here are the types of events that are usually held:
Services for organizing conferences and seminars: Seminars with speakers sharing knowledge and experience in a specific field.
Exhibition Event Services: Events that showcase products, services, or artwork to present to customers or the public.
Opening and inauguration ceremony services: Official events to launch new activities, such as opening of stores, offices, inauguration of factories, hotels and other construction projects.
Gala Dinner organization service: The Gala Dinner event invites guests to attend to connect, share and celebrate special occasions such as birthdays, anniversaries, gatherings, or anniversaries.
Organizing a Sports Event: A competition or sport-related activity such as a race, soccer tournament, marathon, or special sports game.
Performing Arts: Musical or performing arts events, including live music performances, concerts, ballet, opera, art, drama, and comedy.
Celebrate a founding anniversary: ​​An event that celebrates a special event or an important milestone for the business or organization.
Groundbreaking ceremony, ground-breaking ceremony: Kick-off event for a construction project
Year End Party: An event held at the end of the year to show gratitude to employees and customers.
✔ Professional ideation and script management process.
Idea generation and scenario management are very important for professional events. Each event has its own way of organizing, and has things in common. To learn about professional scripts for each type of event, please read the subsections on this website. Here's how to build a script at a basic level and for all types of events.
✓ Define goals and budgets:
Focus on the purpose, the message, and the desired outcome.
Identify available financial resources and assess the ability to spend for the event.
✓ Organization planning:
Choose the right date and time for the event, and determine a venue that fits the size and goals of the event.
Identify the main activities, lectures, lectures or program of the event. Ensure that the event runs smoothly and is engaging for the attendees.
Identify the event team, including staff, partners, and helpers. Assign specific tasks to each person to make sure everything runs smoothly.
✓ Advertising and guest management:
Use appropriate communication channels such as website, social media, email, online advertising and local media to promote your event.
Define guest list and send official invitations. Monitor the registration, confirm the presence and handle the personal information of the guests.
✓ Prepare materials and equipment and personnel:
Set up and prepare audio, light and video equipment: Determine technical requirements and hire professional equipment suppliers to ensure a smooth event.
Prepare materials and equipment: Including information boards, banners, posters, leaflets, invitations and documents for attendees.
Select MC, singer, PG, dance group, artist, security guard, receptionist to serve the ceremony.
✓ Manage activities in the event:
Build a professional registration and reception system. Ensure that all attendees are greeted and directed to their correct locations.
Ensure all activities, lectures, lectures and main programs go as planned. Manage time and ensure attractiveness for attendees.
Ensure that services such as food, beverages, cell phones, internet and restrooms are sufficient to meet the needs of attendees.
✓ Evaluation and follow-up after the event:
Define success evaluation criteria and collect feedback from attendees. Evaluate the extent to which the event's goals have been achieved.
Analyze the collected data to learn what worked well and what can be improved in future events.
Send thank-you letters to attendees, partners, and those who helped to acknowledge their support and build lasting relationships.
When we look at an event, we can see and feel how professional and invested that company is. Therefore, choosing a reputable event company , helping with ideas, planning and organizing organization is extremely important. Currently, there are many companies organizing events, especially in big cities such as Hanoi, Ho Chi Minh and other provinces across the country; So choosing a company that is reputable, quality and receives a lot of good feedback from customers is very important to pay attention to? In the article below, Hoang Sa Viet would like to send to you the Top 20 most famous event organization companies in Vietnam . Watch with us now!
✔ TOP10 centers, professional event organizers
LIST OF 10 EVENTS COMPANY
✓ Hoang Sa Viet Investment and Development Company
The year 2021 marks the more than 10 years of establishment and development of Hoang Sa Viet Investment and Development Company in Ho Chi Minh City. Hoang Sa Viet is the leading prestigious and professional event organization center in Vietnam, Hoang Sa Viet is proud to bring customers good products/services, based on shared values. towards long-term sustainable development. Not only that, HSV is still continuing to make unremitting efforts for the overall development of the event industry - Affirming the Vietnamese brand.
Hoang Sa Viet organizes events with diverse content nationwide, especially focusing on Ho Chi Minh City, Phu Quoc and neighboring southern provinces. Events include:
Organizing New Year's Eve, New Year's Eve
Groundbreaking organization - ground breaking
Opening ceremony - inauguration
Organizing conferences - seminars
Celebrate the founding anniversary
Organizing product launch events,...
In addition to event organization services , Hoang Sa Viet also has a full range of hardware equipment available, including: Sound and light, LED screen, stage, canvas, tables and chairs,... Especially, Cong Hoang Sa Viet company owns Viettruss factory with an area of ​​5000m2, specializing in manufacturing equipment for events. This helps customers save and optimize transportation / personnel costs when using Hoang Sa Viet's package service.
Contact Info:
Company name: Hoang Sa Viet Investment and Development Co., Ltd
Head office: 184/20A Le Dinh Can, Tan Tao, Binh Tan, HCMC
Phu Quoc Branch: Area 10, Duong Dong Town, Phu Quoc City, Kien Giang Province
Hanoi Branch: No. 229, D. Van Tri, Van Noi Ward, Dong Anh District, Hanoi.
Hung Yen Branch: EcoPark Urban Area, Hung Yen.
Long An Branch: Viettruss Aluminum - Ben Luc, Long An
Phone: 0985.999.345
Website : hoangsaviet.com
✓ Cybershow event company
Cyber ​​Show event company is a well-known name for many businesses in Ho Chi Minh City & Phu Quoc. Because of the professionalism and class of each event organized by Cybershow. With many years of experience in the field of marketing, event organization and tourism; ​Cyber ​​Show is proud and honored to be the unit behind the success of many large and small events nationwide. As a partner of many famous brands such as: Mercedes, Fico, Prudential, ABC Bakery, Honda Head Hoang Viet... Companies from Shark Tank Vietnam program such as: Soy Garden, Power Centric...
Contact Info:
Name of unit: Cybershow travel & event company
Head office: 799/9 Nguyen Kiem, Ward 3, Go Vap District, Ho Chi Minh City
Phu Quoc Branch: Area 10, Duong Dong Town, Phu Quoc City, Kien Giang Province
Phone:

0979505563

Website :

cybershow.vn
✓ Vietlink Event Company
Vietlink event companyis a media unit that organizes all-inclusive events in Ho Chi Minh City and provinces from North to South. With professionalism and prestige, we are the choice of many partners and big customers. Vietlink has a large warehouse with an area of ​​thousands of square meters, so it has enough resources to provide event packages. This is a huge plus for the media agency to organize events in terms of competitive prices and quality materials. Because it can be proactive in the production and construction process, Vietlink is also proactive in the project implementation process, the preparation time is shortened quickly but quality is guaranteed. Professional, dynamic, creative and experienced staffs of Vietlink are always ready to support customers. Whenever customers need, Vietlink stands by customers, strictly controlling before, during and even after the program.
Contact Info:
Company name: Hoang Sa Viet Investment and Development Co., Ltd
Head office: 5B Pho Quang, Ward 2, Tan Binh District, HCMC
Phone: 02862700721
Website : vietlinkevent.vn
✓ Phan Dang Media Event Company
On the journey of more than 10 years of serving with a passion for creativity, Phan Dang Media has joined hundreds of brands to save many memorable moments and write inspirational stories on the journey of development. Each brand, each business has its own imprint, its own circumstances, its own culture, achievements, and even its own emotional levels. From the "very personal story" of each business, it is the inspiration for Phan Dang Media to "tell" in the most enthusiastic, creative and responsible way. Let Phan Dang Media "tell the story" of your business through your event in the most professional and impressive way.
Contact Info:
Name of unit: Phan Dang Media Event Company
Head office: 572 Le Quang Dinh, Ward 1, Go Vap District, HCMC
Phone: 0703495678
Website : phandang.com
✓ Asia event company
Asia Event Company is one of the luxury event, travel and team building companies. With large customers at home and abroad. We achieve this by delivering memorable experiences as well as providing outstandingly differentiated event services. Our customers refer us to partners after experiencing our services, places and vendors refer us to their customers, and our employees feel proud to say they do. job at Asia Event.
Contact Info:
Name of unit: Asia event organization company
Hanoi Office: 253 Alley Van Chuong, Kham Thien, Dong Da, Hanoi.
HCM Office: 231/59/8 Cach Mang Thang 8, Ward 5, Tan Binh District, HCMC.
Da Nang Office: 168 Tran Phu, Hai Chau District, Da Nang.
Phone: 0939619998
Website : sukienachau.com
✓ AN Media Event Company
AN Media event company is proud of its dynamic, creative staff, along with a high sense of responsibility, listening and understanding, thereby bringing you the best products and services with affordability. Our goal is to build a happy company, and to deliver a happy customer experience.
Contact Info:
Name of unit: AN MEDIA event company
Office: No. 38 Hoang Ngan, Trung Hoa, Cau Giay, Hanoi
Phone: 0904113123
Website : anmedia.vn
✓ Event organization company CAT Event
Event organization company CAT Event . New members of CAT Event will be amazed at the opening words of the project closing meetings, which are always a reminder to affirm the "9/1 culture". In which, only 1/10 of the time and quality of content is devoted to praise, the remaining 9/10, especially for digging, finding causes and solutions to overcome shortcomings.
Simple but different, it is a particularly effective conductor, making each member of CAT Event deeply imbued with the philosophy of perfection, taking the customer as the center that the founders of CAT Event have worked hard to cultivate from the past years. the first day of the establishment of the company.
Moreover, over time, the event projects that CAT Event implements, which are inspirational, increasingly make that philosophy fresh and full of life.
Contact Info:
Name of the unit: CAT Event . event organization company
100 - 104 Nguyen Sy Sach St. Ward 15, Tan Binh District. Ho Chi Minh City
Phone: 028.54462,499
Website : cat-event.com.vn
✓ Apex Multimedia event organization
Apex Multimedia Event Company is a team of enthusiastic, passionate and experienced members in the event industry and performance technology PROFESSIONAL & DEFECTIVE to bring peace of mind in each chapter. Presented with Integrity - Technology - Creativity. As a consultant for businesses in the journey to breakthrough to dominate the market, build brands and conquer potential customers.
Contact Info:
Name of unit: Apex Multimedia Event Company
Hoa Binh Theatre, 240 – 3/2 Street, Ward 12, District 10, HCMC
Phone: 0379434043
Website : apexmedia.vn
✓ Sea Events company
Sea Event Company One of the prestigious event organization companies in Danang that DanangAZ would like to introduce to you is Sea Event. Sea Event is highly appreciated for the service of organizing the opening ceremony in Da Nang. Sea Event's advantage is a team of young and professionally trained personnel. Therefore, you can rest assured to assign Sea Event to conceptualize, prepare and organize.
Contact Info:
Name of the unit: Sea Event Event Company
57 Nguyen Xuan Nhi, Hai Chau, Da Nang
Phone: 0968374343
Website : SeaEvent.vn
✓ Cosmos event organization
Event organization company Cosmos Event . The working motto "Continuously improving product quality, perfect service and professional performance" is always upheld. That's why Cosmos has always received a lot of love from customers. Up to now, Cosmos is constantly working to continue to accommodate more events with larger scale of customers. The events that Cosmos focuses on, including: Inauguration ceremony, anniversary celebration, conference, conference, gala dinner, year end party, festival, company trip, groundbreaking, product launch,...
Contact Info:
Name of the unit: Cosmos Event Co., Ltd
Pearl Plaza - 561A Dien Bien Phu Str, Ward 25, Binh Thanh Dist, HCMC
Sun Grand City, 03 Luong Yen, Hai Ba Trung, Ha Noi
Phone: 0908670676
Website : cosmos-event.com
0985.999.345