The system is processing. Please wait a moment!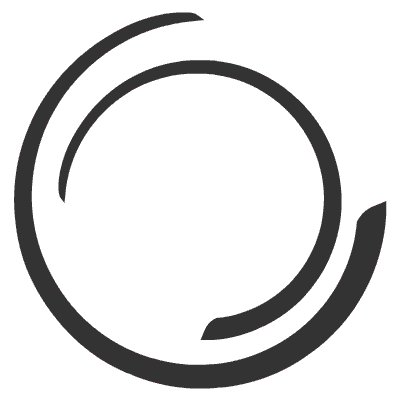 x
QUICK CONSULATION
Hoang Sa Viet will call you directly to advise you when leaving information
Learn Public Sound System Design
02/06/2020
Surely you've heard the music or the announcements that are emitted while walking in the shopping mall, airport, hospital, hotel or apartment complex,... However, have you ever wondered about yourself? Ask why that sound is so widely covered? That is thanks to the installation of a public sound system (PA system).
Today, the design of a public sound system is being widely applied in many locations with the aim of transmitting information promptly and quickly to listeners.

The public address system, also known as the PA system (Public Address system), is an announcement sound system widely applied from small-scale projects such as retail stores, business shops. business, ... to larger-scale projects such as: commercial centers, airports, hospitals, hotels, railway stations, high-class apartment buildings, ... to serve entertainment needs, communicate information and urgent notices to listeners.
The use of public sound systems is increasingly common and important in crowded places; Especially the service industry is growing day by day. So what is the structure of the PA system?
The equipment is divided into 3 main parts in a public sound system, including Input device, central processing device and output device.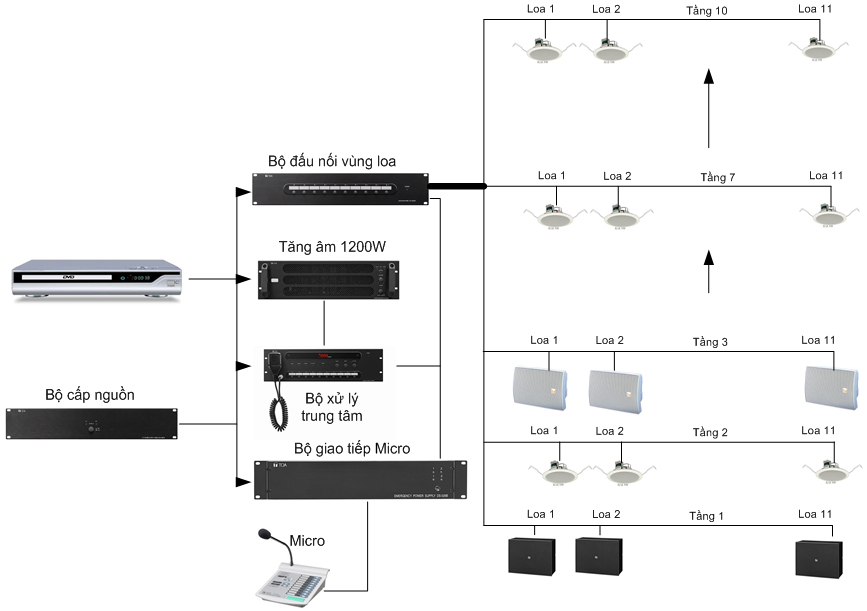 ✔ Input devices (Source)
The input devices here are the sound source, the most basic being the Microphone. Microphone is one of the indispensable input devices in the public sound system, responsible for receiving audio signals and converting them into electrical signals. Microphones in a public address system are desktop microphones, wireless microphones, or wired microphones.
In addition, there are other input devices that can be mentioned: Musical instruments or other audio devices such as smartphones, laptops, disc players, tablets, ...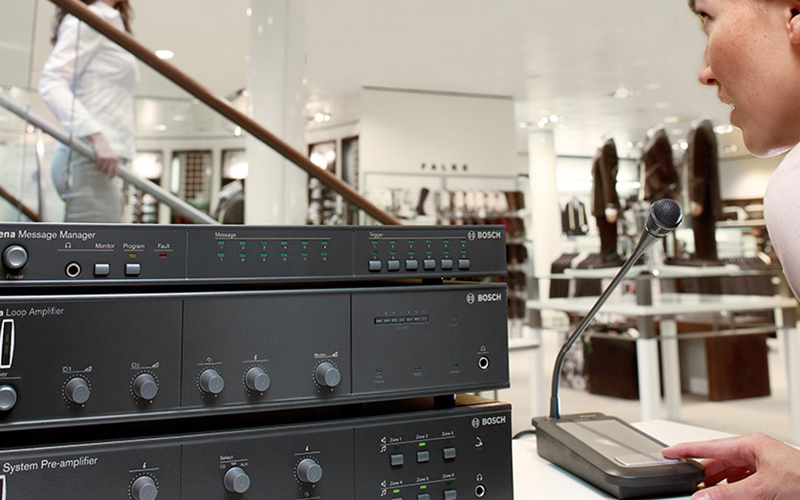 ✔ Central processing devices
The central controller (Controller): The main function is to contain information/message output, select a speaker area to announce. In some cases where the project has a small number of speakers or the speakers have a small capacity, the central controller can integrate the accompanying power (Accompanied power is usually 240W depending on different brands). Above will have an input for a call station, an input for a hand-held microphone, and you can also connect to a 3rd party device (such as a fire alarm system ..)
Extender (Router): A device that is directly connected to the central controller (Controller) with the function to expand the number of speaker zones.
Amply (Booster amplifier): The main task is to receive the input signal, process and amplify the output signal many times larger, transfer to the speaker. It directly serves the operation of multiple speakers at the same time.
Sound controller (Mixer): The function of the Mixer is similar to that of an Amp, but has more advanced features, integrated audio correction to help produce the most perfect sound quality. Currently, people have designed Amply Mixer to reduce the number of installed devices while still ensuring sound quality.
Background music player (Music player): This is a device that can read DVD, MP3, VCD, CD, memory cards and FM, AM radio; has the function of playing music to serve the entertainment needs of customers.
Charger and power storage (Backup power): Used to back up the power source in the event of a sudden power failure. Backup time can be up to 1 hour.
Call Station: Usually a high-sensitivity dynamic microphone attached to a gooseneck rod placed at a table in the control room, reception area,... On the call station, there is a zone selection button and are connected together in a loop using CAT5 UTP network cables.
✔ Output devices
Speaker: Is the terminal device of the public sound system that has the function of emitting sound after completing the process of receiving and decoding signals from central devices. In outdoor space, people often prioritize using compressed speakers, hand-held speakers. As for the indoor space, you should use ceiling speakers or wall box speakers.
Ceiling speakers (Speakers): Mainly installed along the corridors of buildings or office areas.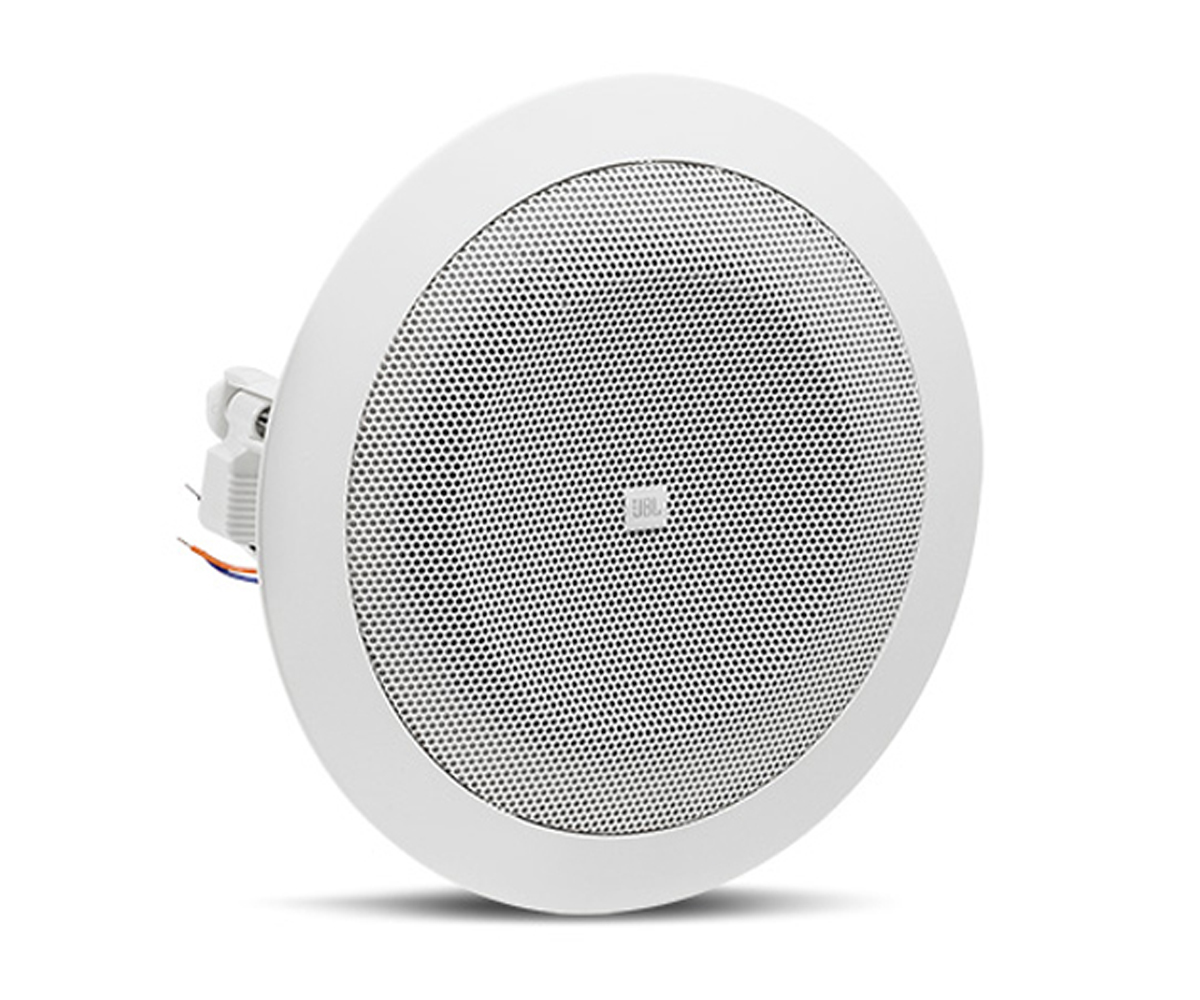 Wall-mounted box speakers: Installed on the wall or corner of the wall in large areas such as hotel lobby or hospital, etc.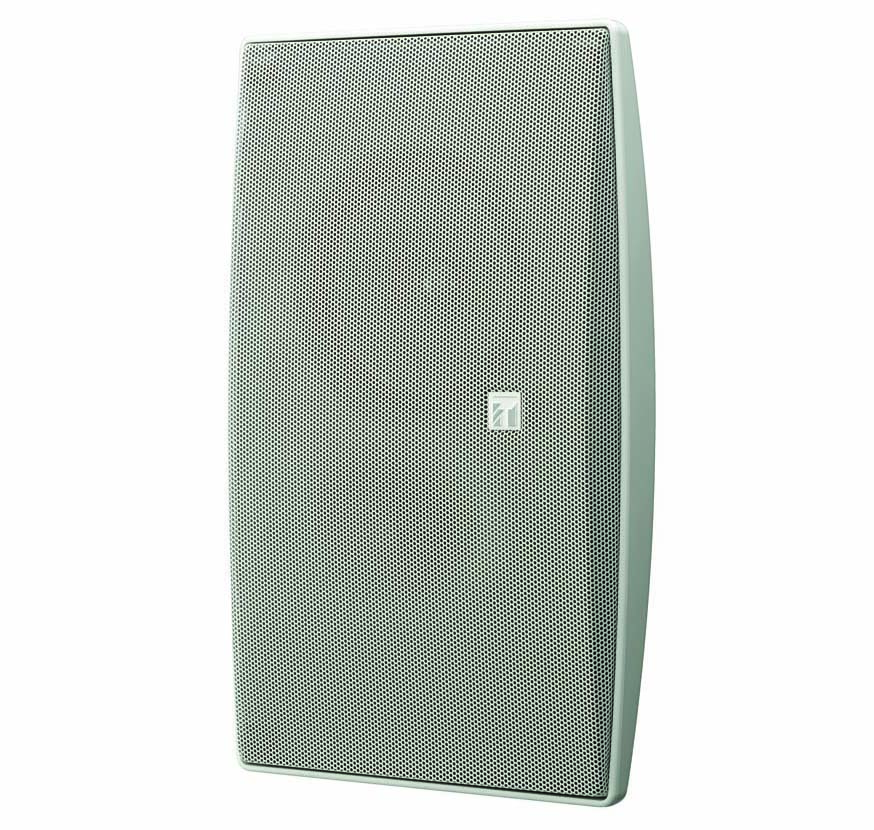 Speaker (Speaker): A type of speaker installed in areas with loud noises such as parking lots, basements, factories, etc.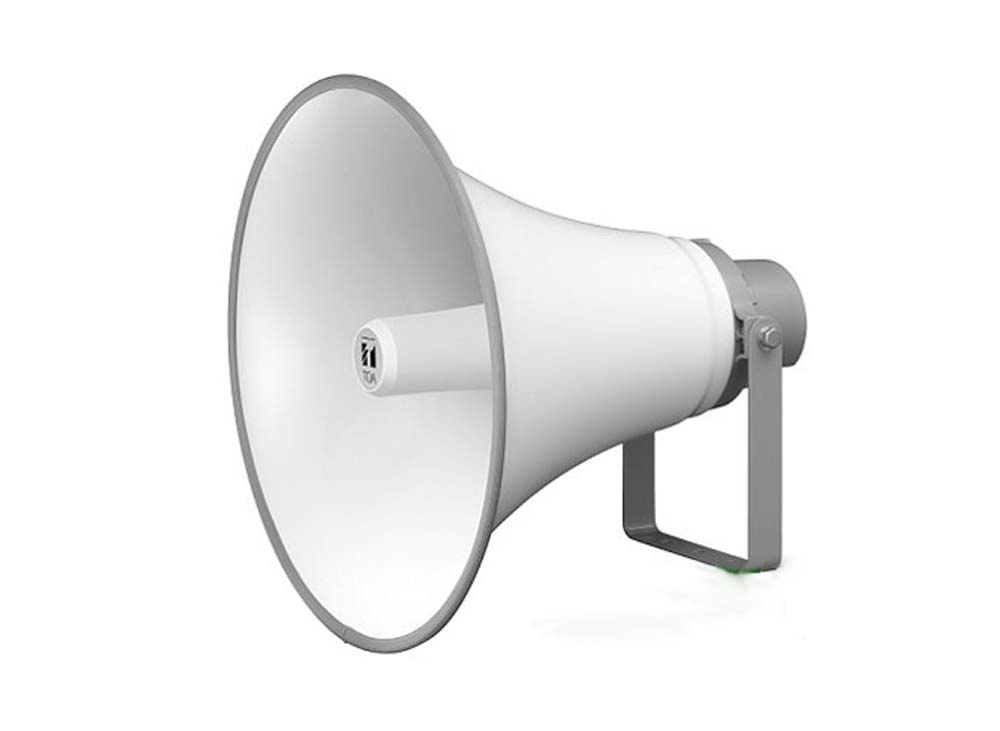 The public sound system transmits the signal through the network cable system to each separate speaker area or the entire speaker area depending on the system design. All speakers in the same area are installed in parallel, then the conductor is pulled to the center.
The devices in the central unit will use the speaker zone selection feature and broadcast information/music to the appropriate speaker area. In addition, the amplifier in the central system can also be connected to other peripheral devices such as microphones, disc players, radio tuners, background music players,... Or connected to an electric switchboard. telephone to broadcast remote announcements or signal transmitters to warn in case of dangerous incidents such as fire, explosion, etc.
In school: Broadcast daily announcements about school activities, rules, events, play music at recess or salute the flag,...
In supermarkets, commercial centers: Used to play background music for entertainment, creating a comfortable feeling for customers. In addition, it is also used to broadcast promotions, notices to find lost people, emergency fire alarms, ...
In apartments, high-rise buildings: Notification of regulations, playing music, instructions on how to escape or emergency information such as relocation, fire alarm, ...
In the hospital: Used to call the patient's name, announce in the corridors, ...
In addition to the above locations, the public sound system is also widely applied in many other locations such as: Train stations, airports, hotels, restaurants, bus stations, ... for the purposes of announcement and different entertainment.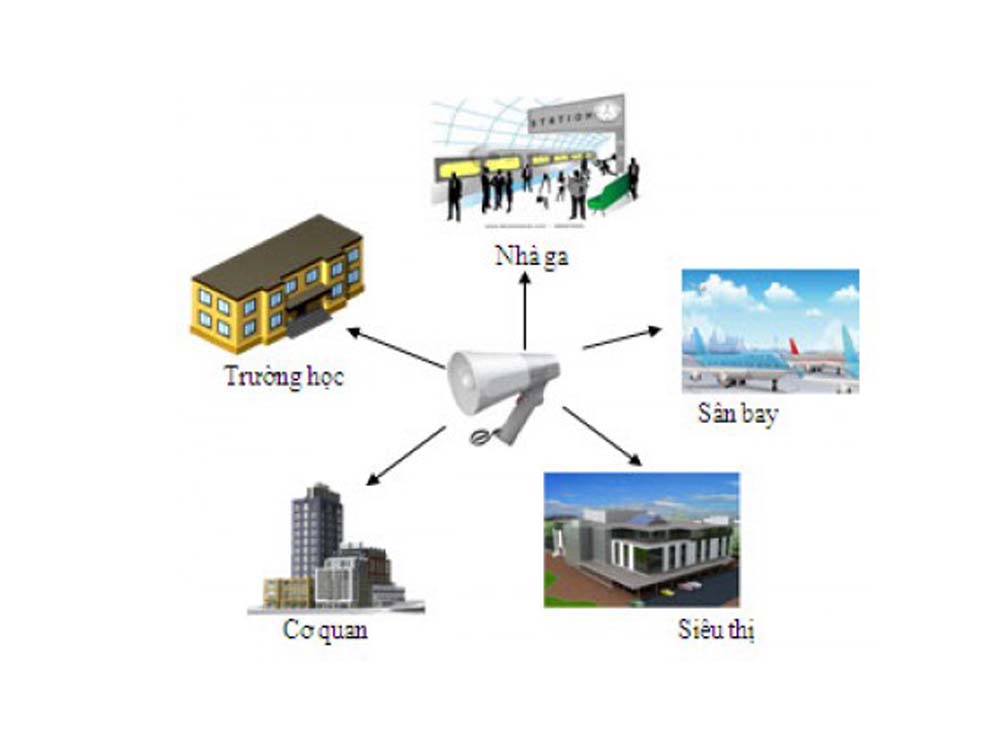 >>>>> Learn more: Meeting Room Sound System Design (Conference - Conference)
When designing a public sound system, customers need to pay attention to a few notes below so that the system is designed to ensure the purposes that were originally set out, to avoid discomfort for everyone:
Signals transmitted at both ends need to eliminate interference, not affecting the audio transmission process.
Background music: customers can use background music for the public sound system to attract people's attention in this area, background music can be used at bookstores, supermarkets,...
Responsiveness: you need to pay attention and adjust the sound response appropriately to avoid howling, and at the same time need to pay attention to the space and the speaker layout to be reasonable with the space.
The speakers are connected in parallel to form a zone that must be emitted from a sound source, to avoid the case that each area plays a sound with different themes.
✔ Bosch Public Sound System
Bosch brand was born in 1953 in Germany, is one of the leading names in the world audio industry. Bosch has always been the customer's preferred choice for audio products, solutions and services.
The Bosch Public Address System offers the most affordable and stable sound solution available today. Bosch Audio is packed with features that maximize the ease and accuracy of announcements and ensure sound transmission even at long distances.
Currently, the Bosch audio system is the most prominent system, favored by many people because of its stability, accuracy and speed.
✔ TOA public sound system
TOA is a famous Japanese audio brand developed in 1978, famous worldwide for its public sound solutions. The product is used by many private units, organizations and businesses and is one of the most popular sound systems today.
Most TOA devices have a very long lifespan with extremely stable system operation. TOA brings an extremely great sound quality, clear, clear and never disappoints customers.
The above is information related to the public sound system. For more detailed advice on products, customers can contact Hoang Sa Viet hotline 0985 99 345. Thank you!
0985.999.345