The system is processing. Please wait a moment!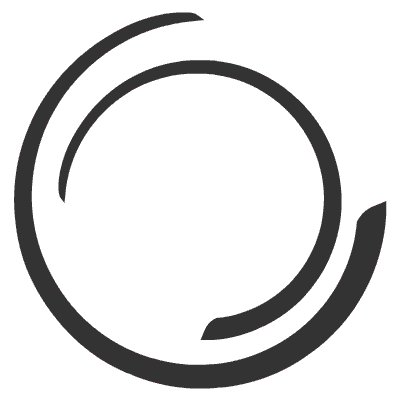 x
QUICK CONSULATION
Hoang Sa Viet will call you directly to advise you when leaving information
CAMPING TENTS For Sale In Vietnam, Ho Chi Minh, Hanoi
There is nothing more precious than memorable experiences in life, trips, camping, picnics to bring people into the natural scenery of the mountains and forests. And in that situation, replacing a warm bed at home is a camping tent, a tool often used by backpackers, tourists, field troops, ... to avoid the weather. , insects and get a good night's sleep during picnics and travel. In particular, this item is quite popular in the current situation of the country, when businesses realize the dual goals of both production and isolation.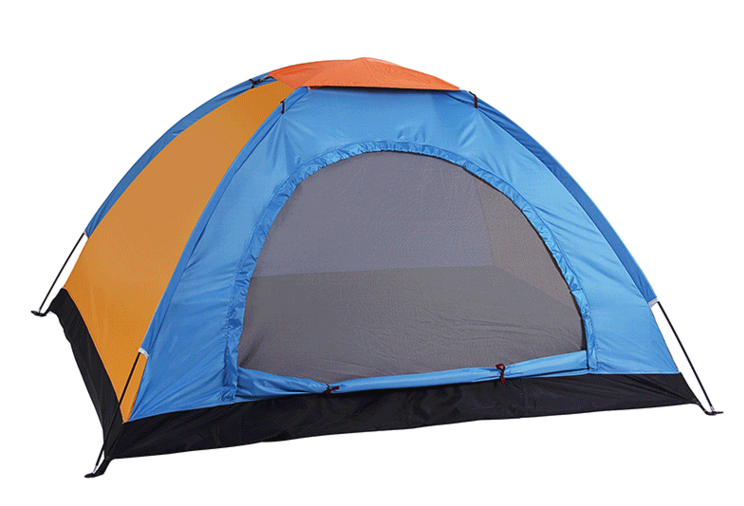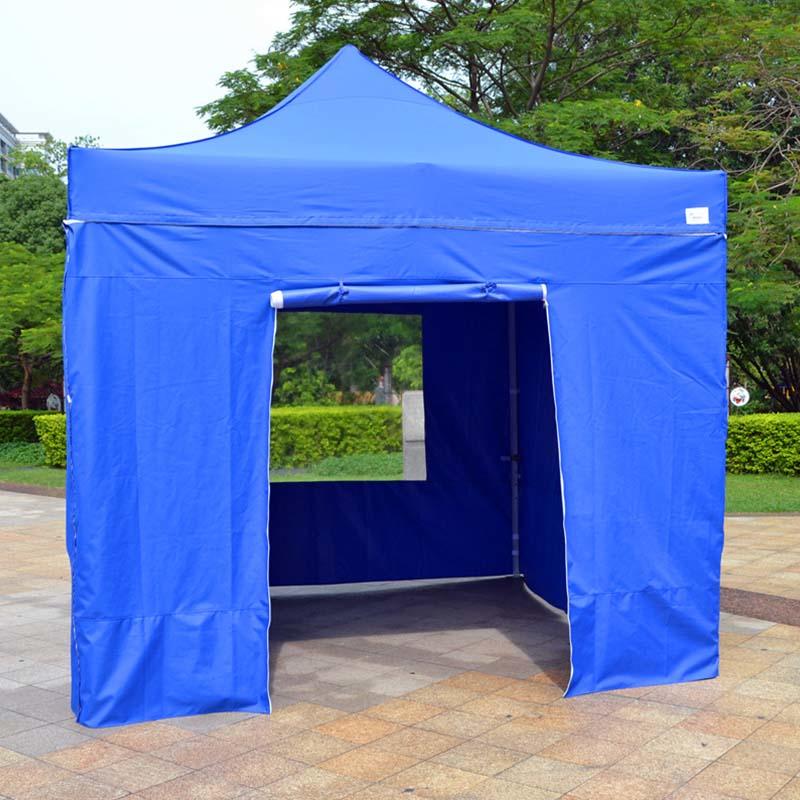 A camping tent (tourist tent) or a portable tent is understood as a small "house" that can accommodate from 2 to 10 people for the purpose of shelter and temporary accommodation. Camping tents usually have a simple structure from pillars, connections to the roofs, tents that open up when you need to use them.
Currently, on the market, there are many types of tents serving the needs of shelter and temporary accommodation with different designs, models, properties and characteristics, of which the most popular are: eureka tent, nature hike, house military field tarpaulin, mobile tarpaulin, assembled tarpaulin house, aluminum alloy tarpaulin...
Today's tents are used for many different purposes. In addition to the form of tents that are used regularly for travel and picnics, there are other types of tents on the market such as military tents, mobile tents, etc.
This is a type of tent from the famous tent manufacturers Eureka and Naturekike, the tent converges the essentials for enthusiasts to experience, spacious space, resistant to rain and wind, easy to install and highly durable...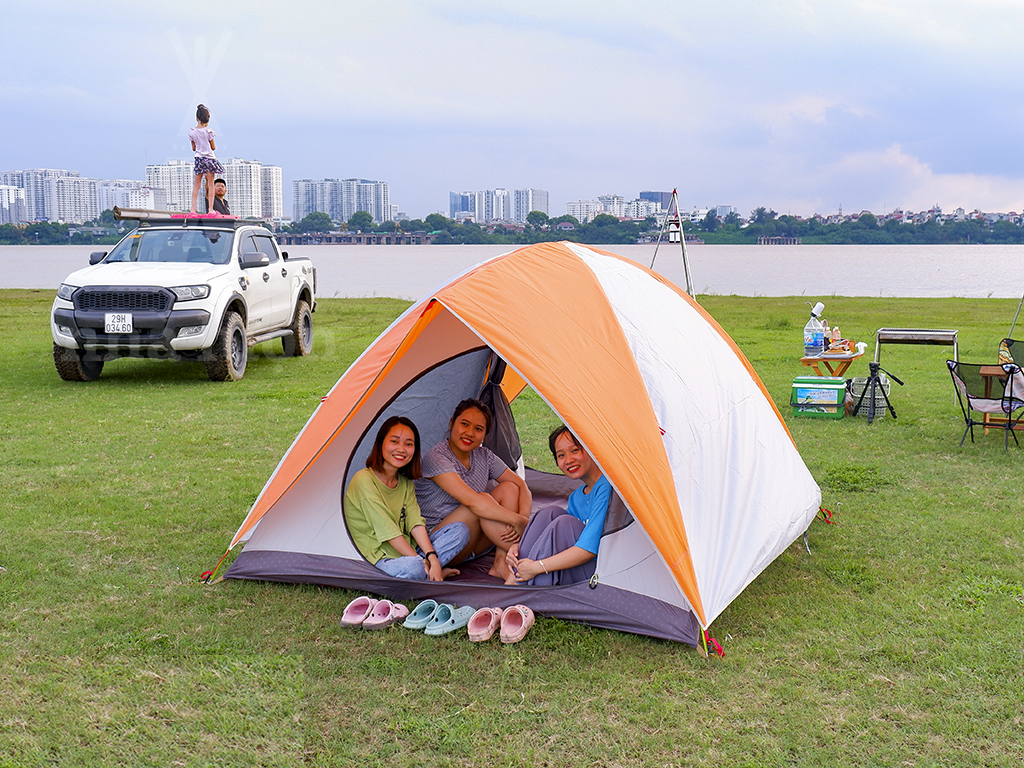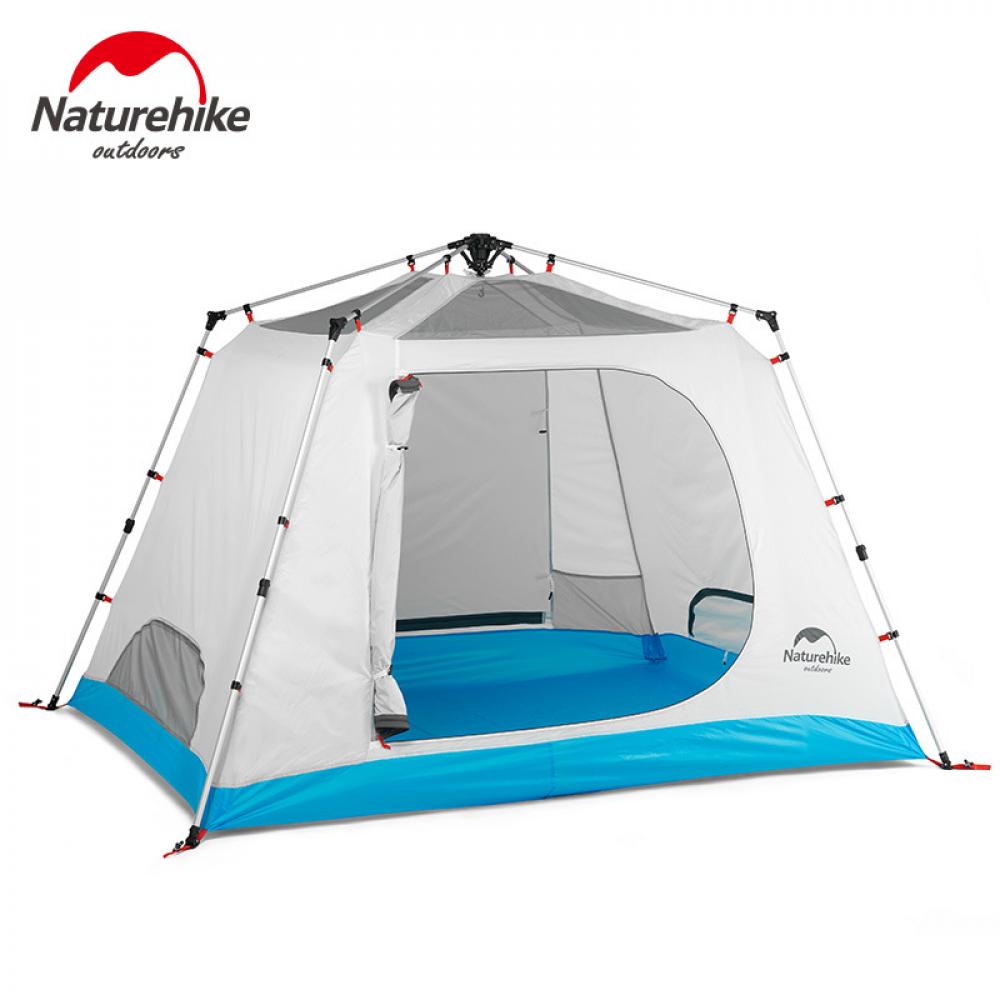 Features and features of Eureka & Naturehike tents :
The outdoor camping tent is designed with 1 room with a capacity of all kinds of space, from 1 person to 10 people depending on the type, in addition, there is an area for shoes outside the tent door.
It is a self-expanding tent model with extremely simple installation
The tent frame is made from high-strength fiberglass, and the outside is covered with a scratch-resistant carbon coating, which is easy to replace when damaged.
The tent cover is made of polyester fabric that is resistant to heavy rain, waterproof to help you sleep outdoors with peace of mind.
The closed design combined with vent holes to both prevent insects and help air circulate, creating good ventilation
Military tarpaulin house, also known as field canvas, field tent is a tarpaulin house with a temporary, mobile erection structure, the canvas roof frame includes columns, trusses and pins.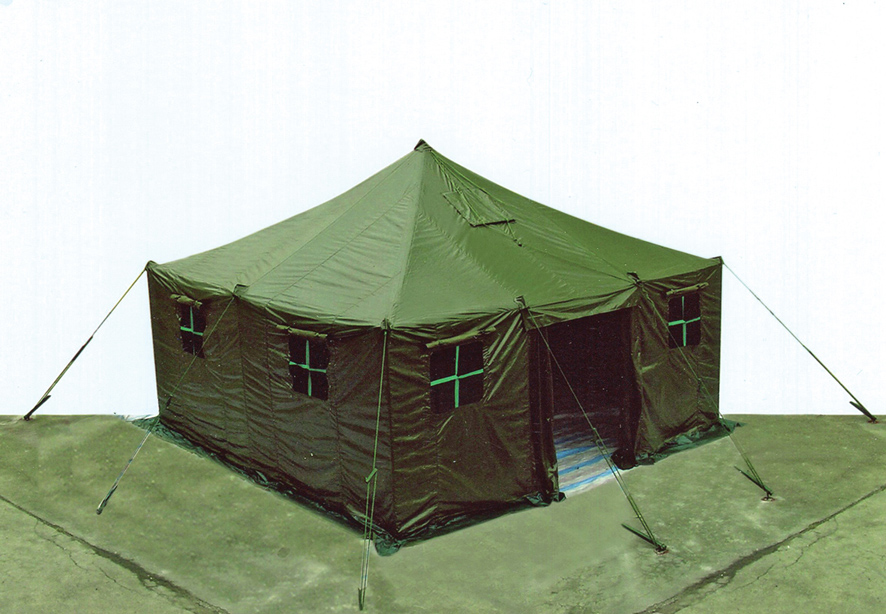 Features and properties of the military tarps:
The military tarpaulin is a PVC-coated tarpaulin-covered with a very good waterproof layer.
The canvas frame is usually made of aluminum or steel to ensure that it does not rust, puncture, or flatten. The welds are smooth, flat, continuous, and the joints are tight.
The canvas can accommodate from 2-15 people depending on the aperture, the area on request
Tarpaulins have quick assembly properties, are easy to transport and install, are used by the military as temporary shelters, or as a location for troops,...
The movable tarpaulin is a type of outdoor roof, erected as a temporary house. This is a versatile application that is loved by many families and businesses that need outdoor sun protection, advertising, events, festivals,... The portable canvas tent has a variety of designs, Many different sizes should be suitable for any location, terrain as well as the purpose of use. Mobile tents are divided into two types: camping tents and spacious tents.
This is a small tent that can accommodate about 4-10 people. Quick and easy assembly. Create an open and spacious space that is big enough like a small room. Portable tents are often used for camps, company trips, teambuilding. Portable tents are accommodation for a team (team) in outdoor activities. Besides, the mobile canvas house is also used as a tent serving many different purposes such as: temporary storage of goods, outdoor mobile sales points, fairs, exhibitions, promotion campaigns ...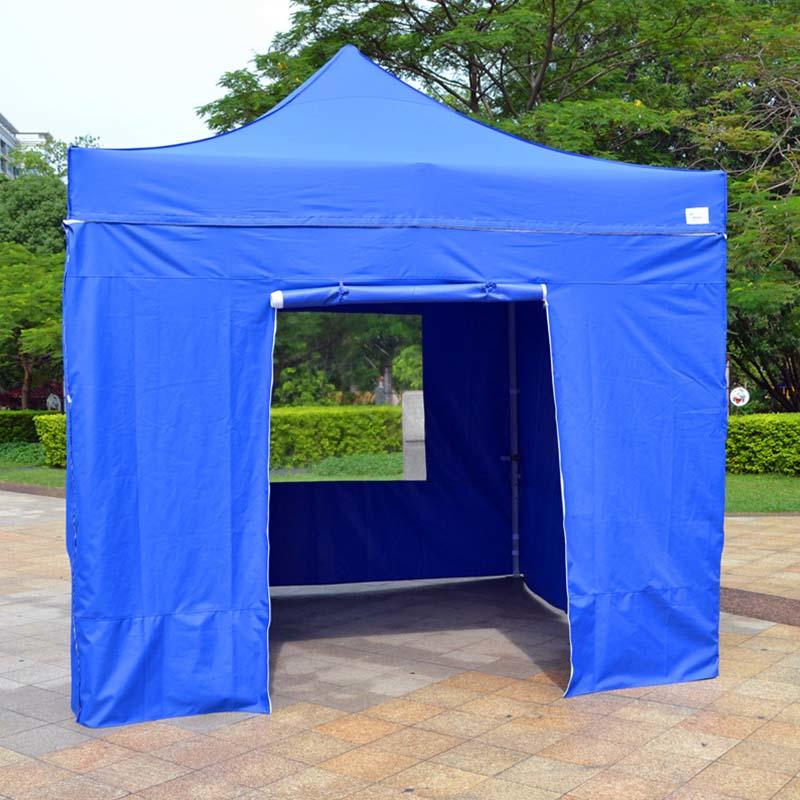 It is a large-sized tent, usually a few dozen to several hundred square meters. Used as an outdoor event organizer. To learn more: https://hoangsaviet.com/nha-bat-su-kien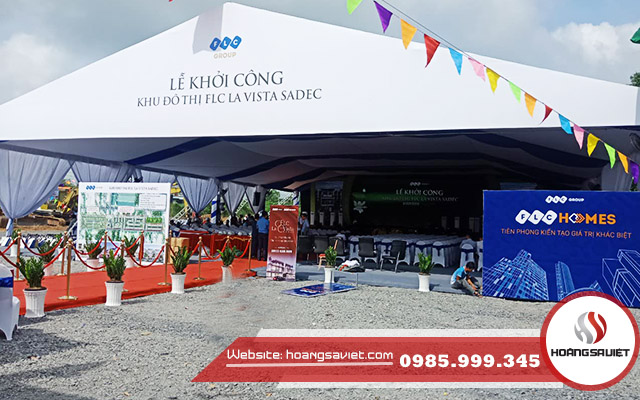 The mobile tarpaulin has a structure of only 2 basic components: the frame and the roof canvas:
The frame of the tent: The canvas frame is the truss frame modules assembled together, which is the part that helps the tent stand and is the fulcrum for installing the canvas roof.
Roof tarpaulin: The roof tarpaulin is usually a 3-layer tarpaulin or a general-purpose tarpaulin that is heat-pressed, or industrially sewn according to the characteristics of each type of frame. The color of the canvas is diverse, you can ask the manufacturer to color according to your preferences.
Depending on the number of attendees, you can choose the appropriate tent size. On the market today, tents are produced with many different types, sizes and designs. Based on the capacity, area and space, people divide the types of tents:
Camping tent for 2 people
Camping tent for 4 people
Camping tent for 6 people
Tent for 10 people
For camping, outdoor picnics in tourism or in the military, people often use tents with a capacity of fewer than 10 people. And usually, in event organization, tents (space tents) are used in outdoor events as event equipment for sun protection, rain cover, and space for events, so the capacity of the house. The space tarpaulin is the largest, can be up to thousands of people, tens of thousands of people,... In addition, the space canvas is also widely used as a field hospital, sports house, factory, etc...
As a device with many applications such as camping tents, space tarpaulins bring many conveniences to life, activities, travel, experience and business, production and social activities, and at the same time use. Tent also contribute to protecting people's health
When sleeping outdoors, it is difficult to avoid the disturbance of insects. Thanks to the airtight, and breathable feature, the camping tent will help you avoid harmful insects and protect your health.
As an alternative to a soft bed, a tent is a space not only to avoid wind and dew but also to keep the body warm.
Undisturbed sleep will help you sleep better, and sleep more deeply
As a light, neat item that does not take too much time to set up, therefore, this will be a convenient solution for travel, camping, and picnic.
On the market today, the price to rent and buy tents and tents is quite cheap for memorable experiences.
In addition, for mobile canvas houses, space tarpaulins can also be used to isolate workers at the factory, prevent covid, ensure both production and isolation.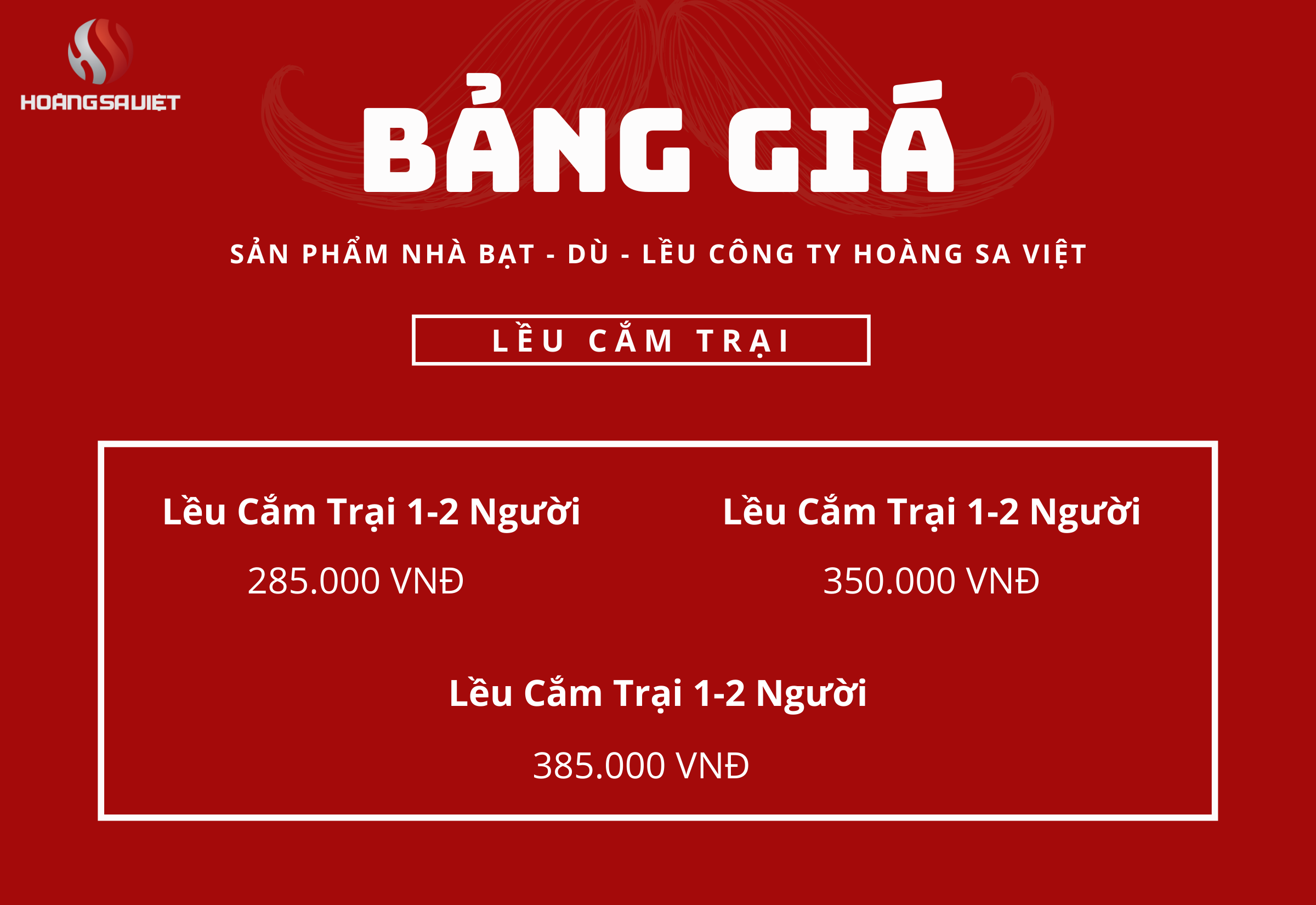 Hoang Sa Viet Company is one of the leading units in the field of manufacturing and trading space canvas houses. 10 years in the industry is not a long time, but it is not a short time for us to accumulate experience and constantly rise, and at the same time expand production and business to contribute to solving the current needs and desires of our customers. goods on the market.
Therefore, not only producing all kinds of products such as truss frames, canvas houses... but Hoang Sa Viet is also the number 1 prestigious manufacturer and supplier of camping tents and portable tarpaulins in Vietnam.
Products of Hoang Sa Viet company fully meet the following criteria:
Is a durable product that meets the aesthetic needs of customers
It is a low-cost, affordable product that everyone can use
It is a simple and lightweight product
Preferred by many customers
And especially, companies and businesses now use tents as a place to stay for employees at the company, both for production and anti-epidemic.
For more information, please contact hotline: 0985.999.345
0985.999.345