The system is processing. Please wait a moment!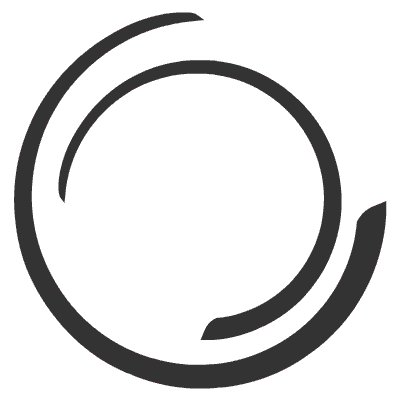 x
QUICK CONSULATION
Hoang Sa Viet will call you directly to advise you when leaving information
Top 7 Midas Mixers Most Interested In The Last 3 Years
Price: Contact
Status: Stocking
Today's vibrant market of Mixer products is an open opportunity for businesses to develop and assert their brands. In addition to new brands, long-standing brands receive more attention from customers because of the quality, prestige, design and price of products, ... Prominent are the brand's Mixer lines. Midas .
Midas is one of the high-end mixer brands of the Music group, born in 1970 in the context of the world music scene in general and the UK in particular booming and creating a big wave.
For 40 years of continuous research and development with a team of leading engineers in the world, Midas has become a legend of the world audio industry, and is one of the brands that receive high praise from customers as well as customers. experts.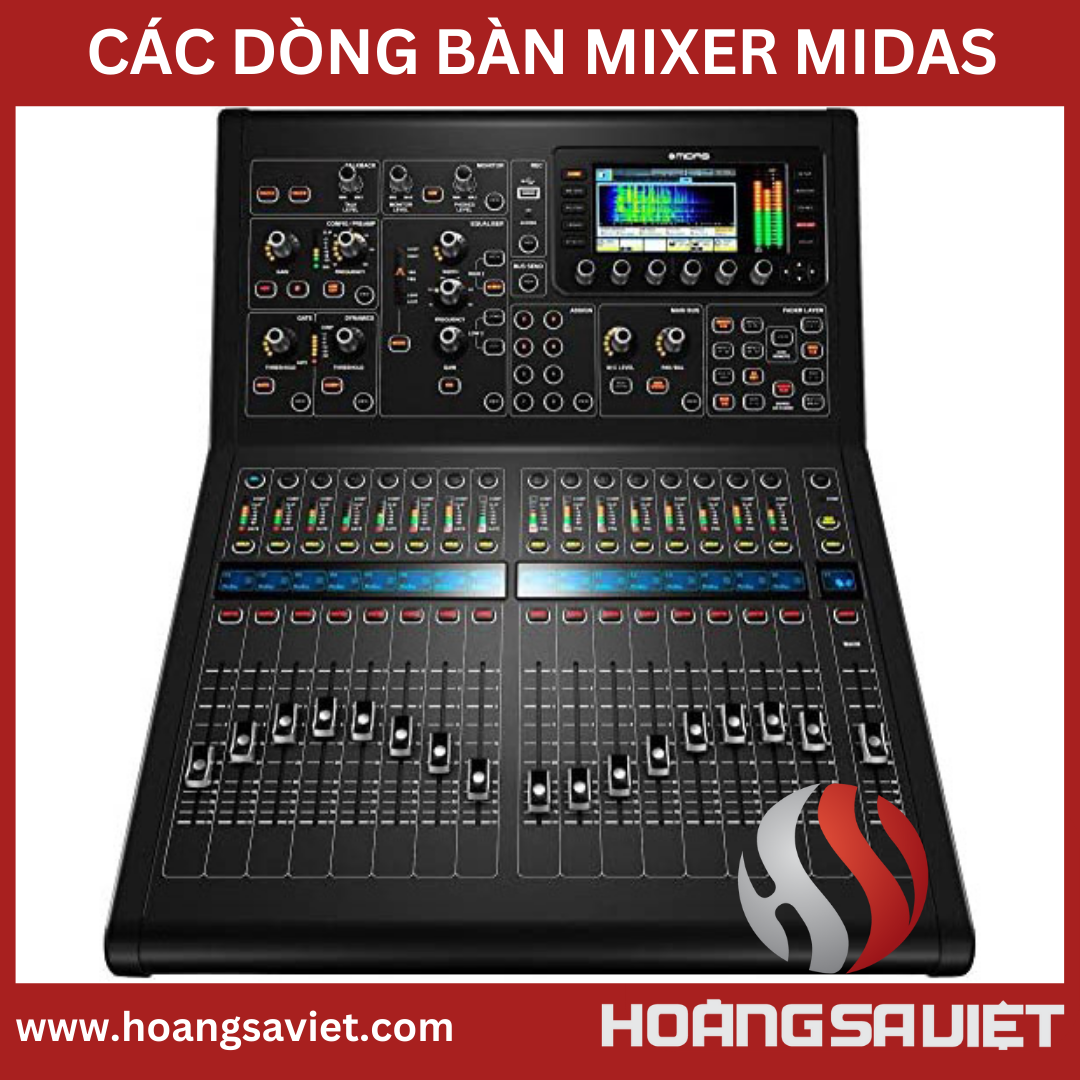 Mixer M32R is a great combination of classic British mixer design and advanced modern technology widely used in stage, performance, events,...Mixer Midas M32R with 32 lines and set structure The product frame is specially designed by a esteemed design expert, making it possible for the M32R to last for many years in the harsh conditions of the stage environment.
Moreover, with outstanding advantages, the M32R is considered by experts to be one of the better audio mixing solutions than other modules in the same segment.
Midas M32R . Mixer Specifications
Input processing channel

32 input channels, 8 Aux channels and 8 FX . channels

Output processing channel

16

Signal processing (resolution)

40 bits

The AES50 port allows up to 96 inputs and 96 outputs

8DCA and 6 groups of mute
See also: Mixer Midas M32R
Mixer Midas DM16 is an analog mixer at a mid-range price that the Midas brand wants to send to customers. The mixer has a simple design with 16 channels suitable for performing bands.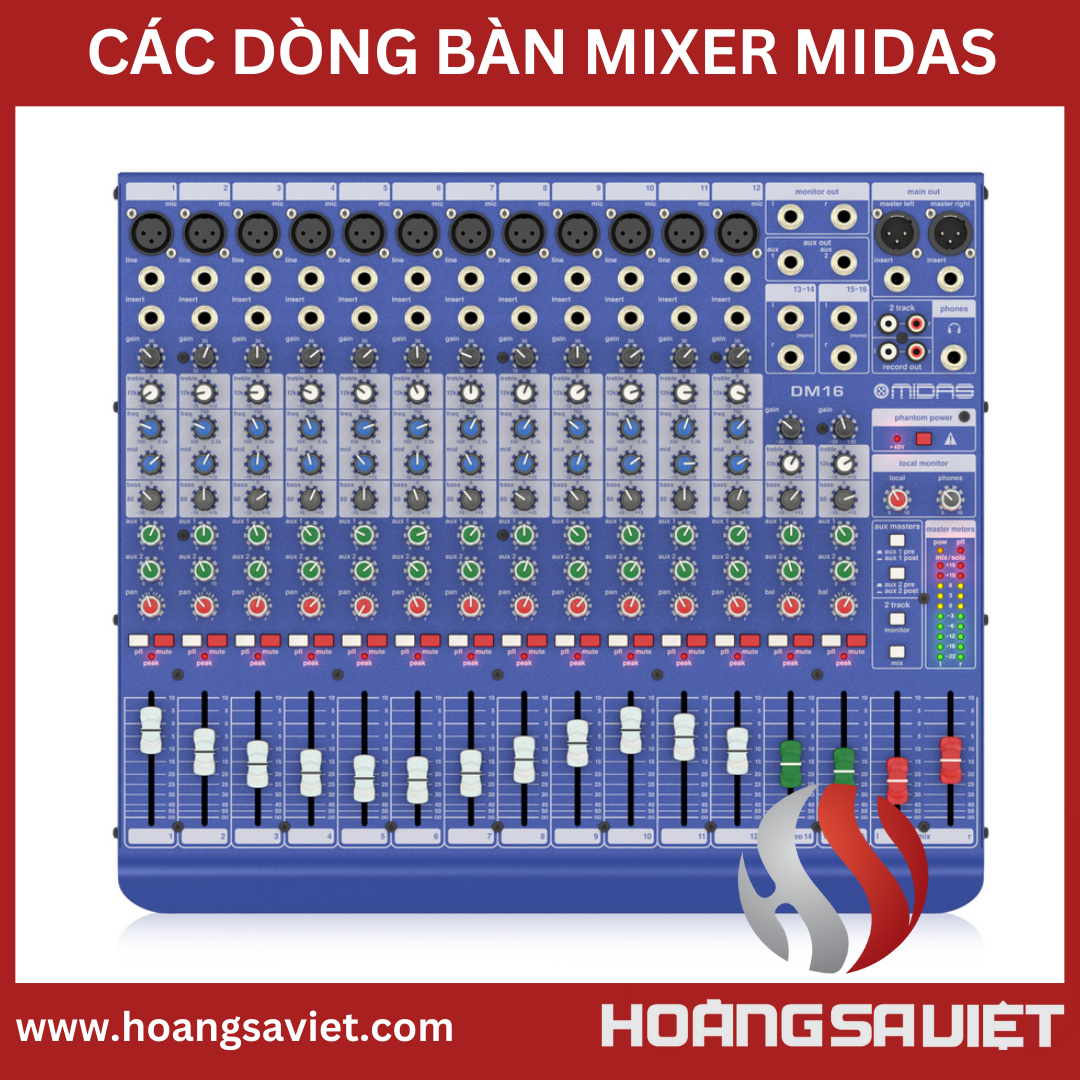 This device can help with extremely low noise, and is sure to be a great product for mixing sounds.
Midas DM16 . Mixer Specifications
| | |
| --- | --- |
| Mixer type | Analogue |
| Channel | 16 channels (including 2 stereo channels) |
| Input - Mic Preamps | 12 x XLR |
| Input - Line number | 12 x 1/4" TRS, 4 x 1/4" TRS (2 stereo channels) |
| Output - Main | 2 x XLR (main), 2 x 1/4" (monitor) |
| Output - Other | 2 x RCA stereo pairs (record out, 2 tracks) |
| Faders | 16 x 60mm faders |
| Dimensions(H x W x D) | 3.7" x 17.2" x 14.6" |
See also: Midas DM16 . Analogue Mixer
If you have ever known Midas Mixer, then surely customers will also know this Midas M32 Mixer series, because this is one of the outstanding product lines for Midas' digital mixer line.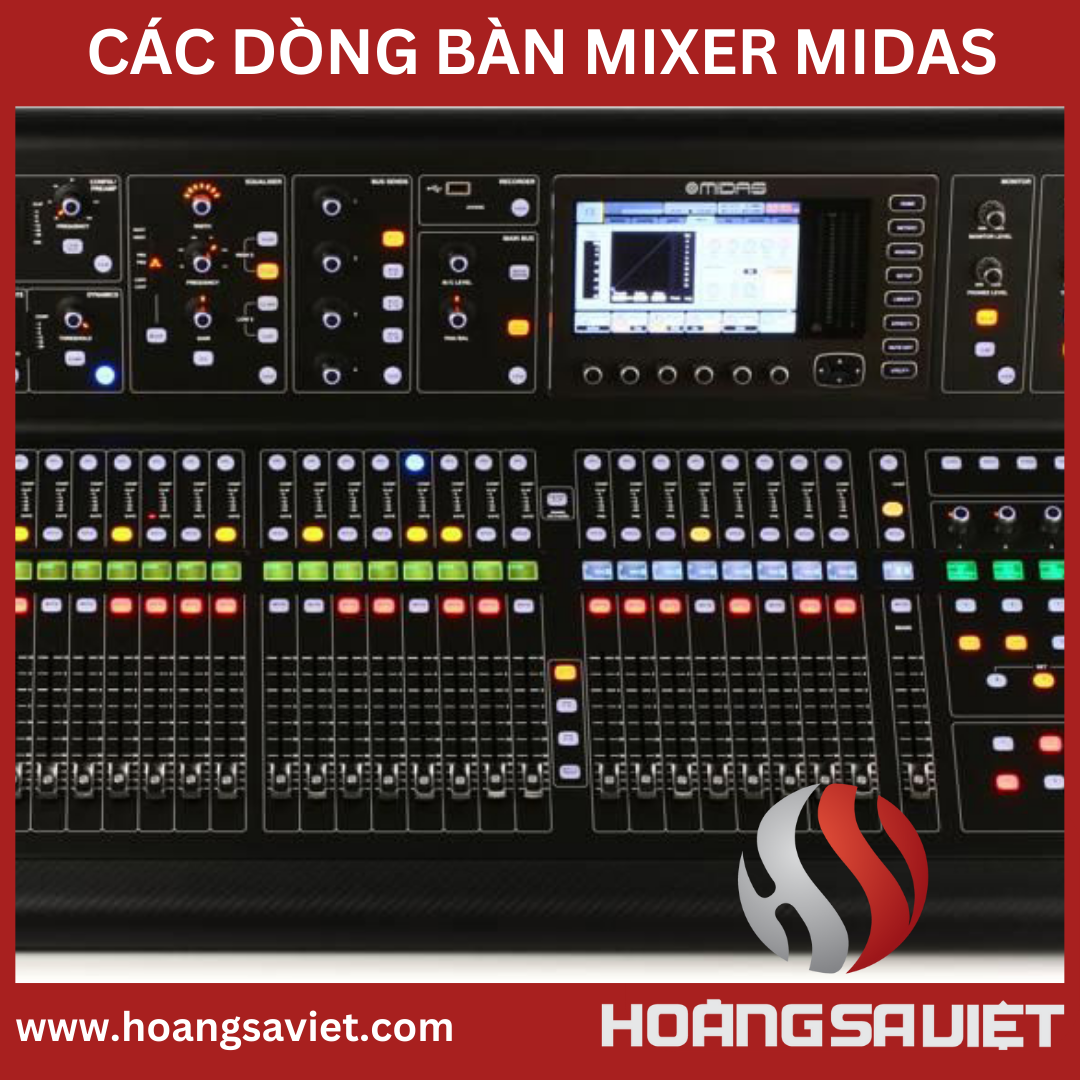 Inspired by the design of cars, Midas M32 is like a luxury "supercar" in the mid-range segment with 32 lines, carrying many outstanding features compared to other products in the same segment.
See also: Midas M32 Mixer
The Midas 12FX mixer is a 12-line analog mixer with a clean, simple design that gives users a great mixing device.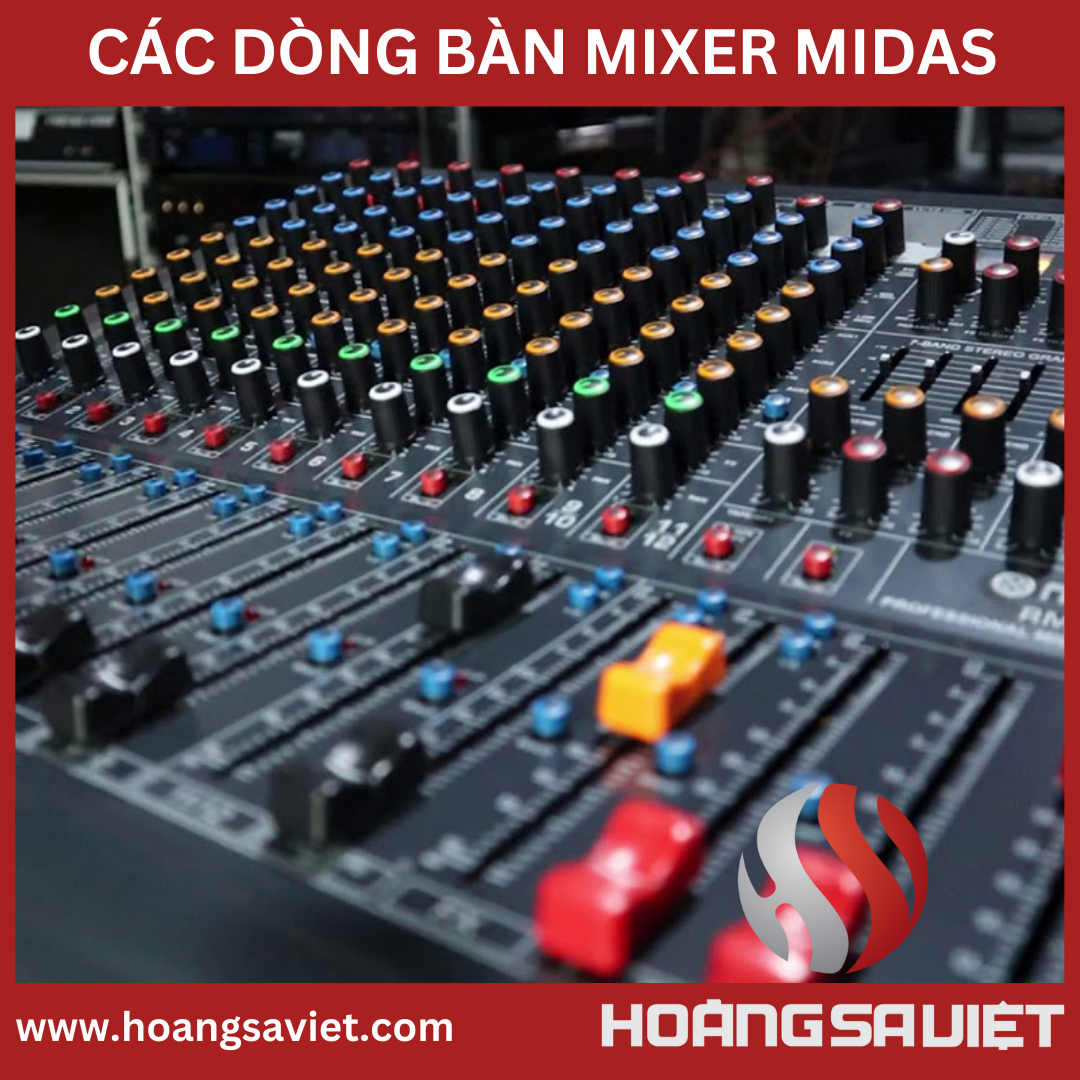 Outstanding features of the Midas RM-12FX Mixer model:
Solid outer frame with high quality materials, high strength, extremely good impact resistance

Deep black paint color, high durability - good water resistance, scratch resistance

The system of alignment knobs is arranged scientifically, reasonably, and is user-friendly

Large LCD screen, quick and detailed display

Good anti-howling, extremely low noise level for smoother, more vivid sound

Easily combine with other audio devices on the market with the multi-standard jack system
See also: Midas Mixer RM-12FX
Midas DM12 is a mid-range analog mixer designed with 12 lines suitable for both stage and studio use, especially thanks to its unique design, it will be the ideal choice for mixing instrument sounds.
Midas DM12 is considered a simple but extremely excellent mixing solution, because of its special sound quality, low noise, good sound and high fidelity.
See more:
The Pro1-IP mixer is equipped with 48 input channels, a prestigious digital product line that has received many audio awards.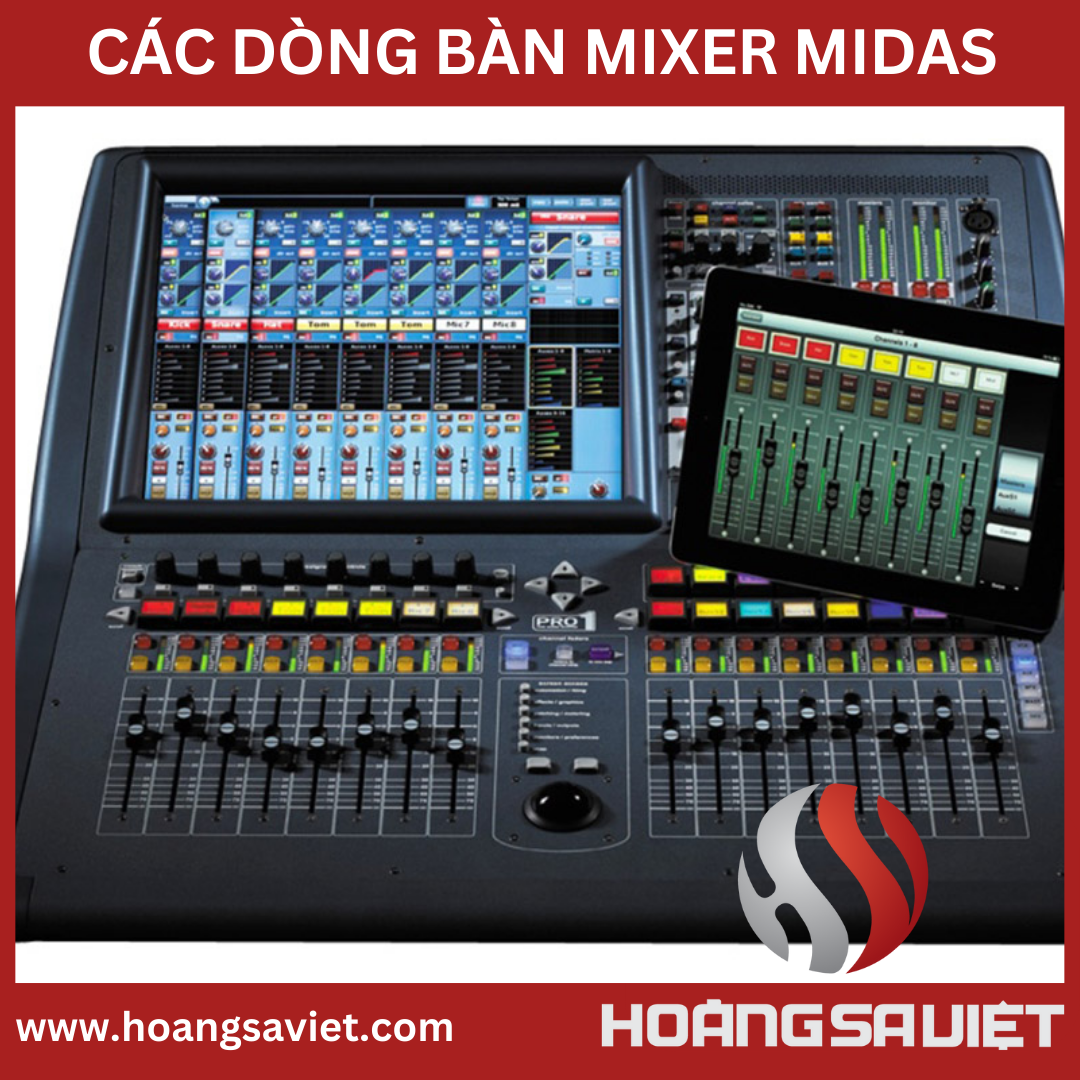 The design of Mixer Pro1-IP is much improved compared to other products in the same class. The product frame is designed with aluminum and aluminum alloy, light weight and highly aesthetic. At the same time, the Pro1-IP Mixer also impresses with its extremely well-controlled latency and precise processing, allowing up to 172 input channels to be assigned.
This is a mixer that is full of Midas quintessence and creates a great buzz for this famous brand.
See also: Mixer Midas Pro1-IP
Breakthrough Midas Pro2-CC-IP mixer with 64 input channels. Like the series in the company's Mixer Pro series, the Pro2-CC-IP stands out for its extremely well controlled latency and high precision, making it suitable for high profile live sound applications.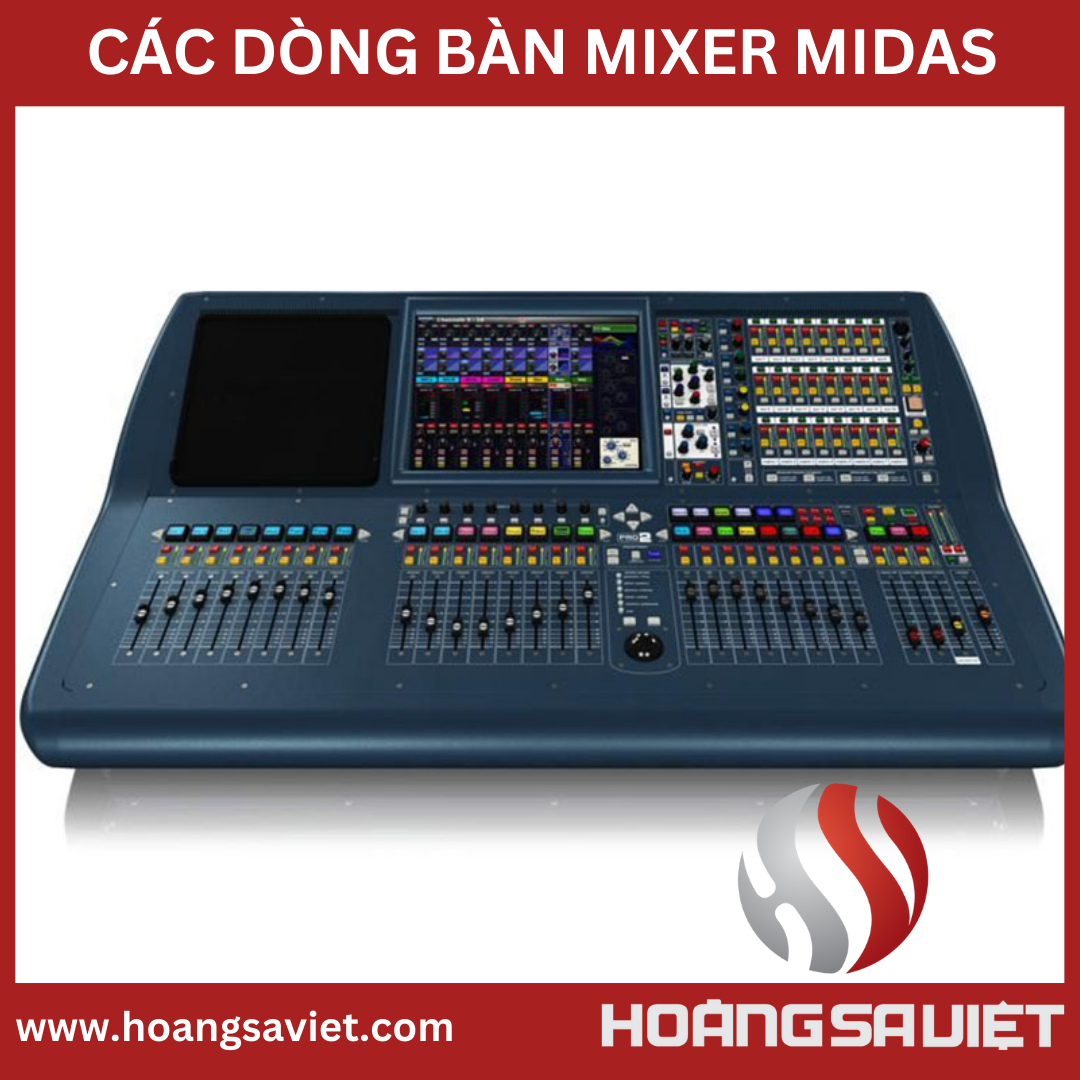 See also: Midas Pro2-CC-IP Mixer
It is no coincidence that Midas is known as a globally famous brand. Mixer product lines from this brand have been introduced by Hoang Sa Viet in the above article. Hopefully, this information will be really helpful for customers to choose the most suitable Midas Mixer.
For more information, please contact: 0985.99.345
222 views
Gửi đánh giá của bạn cho sản phẩm này!
Hiện chưa có đánh giá nào về sản phẩm này!
0985.999.345